New deepwater drilling permits: Zilch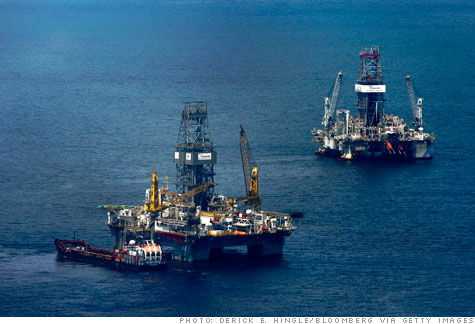 NEW YORK (CNNMoney.com) -- President Obama lifted his moratorium on deepwater oil drilling nearly a month ago, but the government still hasn't issued any new permits in the Gulf of Mexico.
And most analysts say permits will be slow in coming through 2011.
The Interior Department halted deep water permits shortly after BP's Macondo well blew out last April. The accident resulted in the worst oil spill in U.S. history.
The moratorium was lifted in mid-October after government officials were confident new, stricter rules and regulations were in place.
But no new permits for wells covered under the ban have been issued, according to a spokeswoman for the Interior Department's Bureau of Ocean Energy Management Regulation and Enforcement.
"[BOEMRE director Michael] Bromwich has indicated that he hopes to see some approved by the end of the year but cannot speculate," the spokeswoman said in a statement.
Even if a few permits come through, analysts say it will be a far cry from the amount issued pre-spill.
"We're not holding our breath for a return to business as usual," Whitney Stanco, and energy analyst at the Washington Research Group, wrote in a recent research note. "Despite pressure from Gulf state lawmakers and the oil and gas industry, we believe permitting in 2011 will likely be slower than it has been in recent years."
The moratorium did not affect current oil production in the deepwater Gulf of Mexico, which comes from wells that have already been drilled. Currently, about a quarter of the nation's five-million-barrel-a-day crude output comes from the deepwater Gulf, according to the Government's Energy Information Administration.
But future output could fall if new wells aren't drilled. EIA predicts U.S. output will drop by about 170,000 barrels a day in 2011 thanks to the ban.
With Republicans taking over the House, it's possible that the generally more pro-drilling lawmakers will push the administration to issue more permits.
"You could see hearings in the first quarter of the year," said Kevin Shaw, an energy lawyer at the law firm Mayer Brown. "But it will just be a stick to beat the administration with. I'm not expecting a much different outcome."
Indeed, analysts say most lawmakers will be reluctant to push the Interior Department to issue permits faster than it thinks it can safely do so.
"What happened this summer was pretty dramatic," said Joseph Stanislaw, an independent energy adviser at Deloitte & Touche. "I think everyone agrees that people really need to work out the rules."
That's tough news to the people who do the actual drilling.
"What's going on over here is a whole lot of nothing," said Jim Noe, and executive at Hercules offshore, who said they are still having a hard time getting permits even for shallow water wells.
Noe said they haven't had to lay off too many people yet, and have kept workers busy doing maintenance work and other jobs. But the longer the permit drought continues, the harder it gets.
"We're not optimistic we'll be back in business in a meaningful way anytime soon," he said.