Juicy tax breaks for electric cars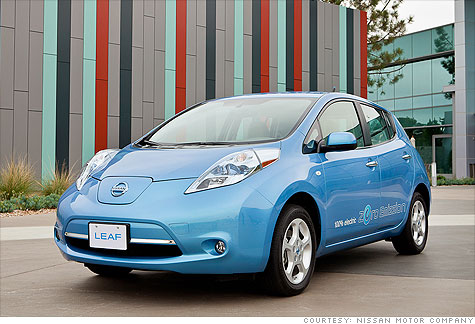 NEW YORK (CNNMoney.com) -- The Nissan Leaf will carry a price tag of $32,500, but some California residents could drive one for just about $17,000 -- roughly the cost of a typical gas-powered compact sedan.
That low, low price is thanks to incentives from the federal government, which offers a $7,500 tax credit to buyers of plug-in cars; the state of California, which offers a $5,000 rebate; and local governments in California's San Joaquin Valley, which offer another $3,000 in rebates.
Many other states, and even cities and counties, offer their own incentives for plug-in cars. Those tax breaks and other goodies could be deal-makers for a lot of consumers, if they know about and can understand them.
The incentives are designed to encourage car buyers who are willing to do their part to help the environment -- provided it doesn't cost them anything.
"Survey after survey says 'I'm willing to drive sustainably but I'm not willing to pay one penny more,' " said Mark Perry, director of product planning at Nissan North America.
For the initial buyers of plug-in vehicles, however, those sorts of pay-offs probably will make little difference, said Jesse Toprak, an auto sales analyst with the website Truecar.com. The first buyers in line will be hard-core electric-car enthusiasts who've been waiting years to get their hands on one and who'll need little financial prompting.
"State incentives will be more of a factor as the early adapter effect diminishes throughout the year," Toprak said.
Tax incentives for plug-in vehicles are cropping up in lots of places -- blue states and red, said Jay Friedland, legislative director for the group Plug-in America, an electric car advocacy group. That's in part because efforts to reduce fuel consumption appeal to people across the political spectrum, from those who want to reduce greenhouse gas emissions to those who want to cut dependence on foreign oil, Friedland said.
"It covers environmental issues all the way over the whole national security field," he said.
But some of the rules for getting these incentives can be confusing and not all define an "electric" or "zero emission car" the same way.
For example, Californians who buy a Nissan Leaf will be able to get a $5,000 tax credit and access to carpool lanes, but those who buy a 2011 Chevrolet Volt won't. That's because, under state rules, the Volt does not qualify as a "zero emissions vehicle," GM spokesman Shad Balch said.
The Volt does qualify for the federal $7,500 tax credit, though, as well as incentives in other states. With some engineering tweaks, it is expected to qualify for the California benefits by 2012, Balch said.
Some of the biggest state packages, according to Nissan:
Colorado residents can get a tax credit of up to $6,000 for the purchase of a qualifying vehicle, plus a tax credit of up to 20% for the purchase of a charger.
California is offering a tax rebate of up to $5,000 for the purchase of a zero-emission vehicle, plus use of carpool lanes. Many localities offer additional incentives, including tax breaks and free parking.
Georgia offers an income tax credit of up to $5,000 as well as a tax credit of 10% for the cost of charging equipment. Qualifying vehicles also have access to carpool lanes.
Hawaii residents can claim a rebate of 20% of the vehicle's purchase price up to $4,500. Rebates of up $5,000 are available if the purchase includes a charging station.
The Department of Energy maintains a database of federal and state incentives for electric vehicles on its website at http://www.afdc.energy.gov/afdc/laws/