Ethanol subsidy under fire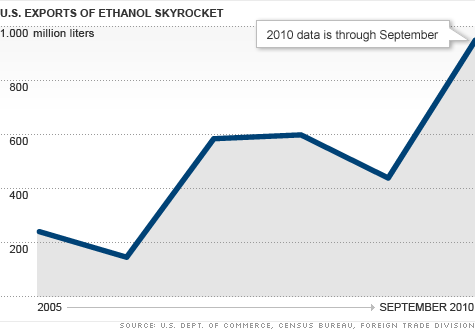 NEW YORK (CNNMoney.com) -- For years, American taxpayers have subsidized ethanol production in a bid to boost the nation's energy independence.
Now a boom in ethanol exports is drawing fresh criticism of that tax credit, which cost taxpayers $6 billion last year.
The United States this year became a net exporter of corn-based ethanol, exporting more than it imports, as a spike in the price of sugar-based ethanol made by Brazil has given U.S. ethanol a leg up on prices.
In fact, the country is on track to ship out 300 million gallons of ethanol in 2010, twice as much as last year, according to the Renewable Fuels Association.
Some environmentalists are outraged. They have long questioned the ecological benefit of ethanol, which is blended with gasoline, claiming that it takes as much energy to produce as it yields. And if ethanol is not going to be used solely to cut foreign oil imports, they argue, the subsidy should be eliminated.
"The news that this tax credit is subsidizing exports undermines the argument that ethanol is needed to help end our oil dependency," said Sasha Lyutse, a policy analyst at the Natural Resources Defense Council, responding in a blog post to a story first published this weekend in the Financial Times.
The ethanol exports also aren't sitting well with food industry associations, which say that increasing ethanol use is driving up the price of corn.
"At the end of the day, we're all trying to get the same bushel of corn," said Kristina Butts, legislative director for the National Cattleman's Beef Association. "This is a mature industry. It should stand on its own."
The criticism comes at a crucial time for the ethanol industry.
The federal tax subsidy, currently 45 cents a gallon, expires on Dec. 31. Given the current cost-cutting mood in Washington, locking down an extension is far from certain despite the strong support it enjoys from powerful farm-state lawmakers.
"It's not the slam dunk it once was," said Divya Reddy, an energy policy analyst at the Eurasia Group, a political risk consultancy.
An extended ethanol subsidy may pass retroactively sometime next year but could be reduced to perhaps 36 cents a gallon, Reddy believes.
"The ethanol industry is now profitable and heightened attention to deficits mean that it will be harder to fund these costly subsidies," she said.
Why exports are booming
Washington has been subsidizing corn-based ethanol for decades in an attempt to make the price of domestic fuel competitive with foreign oil.
Under that logic, exporting ethanol may seem odd. Why not just import less oil?
The problem is, government regulations strictly limit how much ethanol can be used in gasoline.
That effectively means the country is using almost as much ethanol as it can.
In the future, new cars will gradually be able to burn more ethanol. That is how lawmakers hope the country can meet its ambitious mandate of using 36 billion gallons of ethanol -- not all from corn -- by 2022, up from about 13 billion gallon currently.
But between now and 2022, there are some obvious kinks to work out.
"Some policies are clearly not aligned properly," said Brian Milne, an editor at the industry information provider Telvent DTN.
There's another factor at play: Sugar prices are at 30-year highs. As a result, the price of sugar-based ethanol produced in Brazil -- a major player in the world market for ethanol -- has surged. And that has made U.S. corn ethanol the low cost alternative for other countries that have a mandate to use more biofuels.
Still worthy?
The Renewable Fuels Association, which represents the ethanol industry, said the current increase in exports is unusual, caused largely by the expensive Brazilian product, and probably won't continue.
The industry argues that it needs the subsidy to compete over the long term with oil.
Plus, the United States still uses 97.5% of its ethanol production domestically.
The industry would rather use all the ethanol at home, but pointed to the government's rules currently prohibiting higher amounts of ethanol in gasoline.
"We'd love to not have to export a drop, " said Matt Hartwig, a spokesman for the Renewable Fuels Association. "But that just isn't the case."
And the subsidies will help spur the development of infrastructure -- distribution pipelines and more ethanol-friendly vehicles -- that will someday use ethanol made from non-food crops like switchgrass.
Still, with Congress feeling deficit pressures and the industry already enjoying the government mandate to use more ethanol in gasoline, those may be a hard arguments to make.