Commodities rally hits a speed bump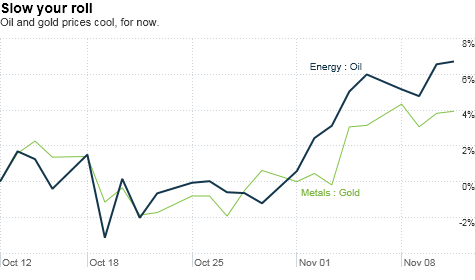 NEW YORK (CNNMoney.com) -- The rally in commodities cooled a bit Thursday, as the dollar firmed and world leaders gathered in Seoul to discuss trade policies.
Oil prices eased Thursday, one day after closing at their highest level since October 2008 following a surprise decrease in inventories. Gold prices, which hit a record high Tuesday, were also trending lower.
Agricultural commodities, such as cotton, cocoa and coffee all backed off recent highs. Cotton hit a new all-time high Tuesday following a USDA crop report that cut the production outlook for 2011. Supply and demand worries have been underpinning the recent pice spikes for these commodities.
However, base metals bucked the trend Thursday as investors continue to anticipate strong industrial demand from developing economies. Copper was up over 1%. Silver prices also managed to hold slight gains.
Prices for a variety of commodities had been on a tear recently as traders bet the Federal Reserve's latest plan to stimulate the economy will drive asset prices higher. The Fed's bond-buying policy, known as quantitative easing, is also expected to put further pressure on the U.S. dollar.
The dollar factor
The dollar was gaining ground Thursday against its main trading partners. It was up 0.9% versus the euro, 0.1% against the U.K. pound and 0.3% on the Japanese yen.
A stronger dollar tends to weigh on prices for commodities priced in the U.S. currency. Conversely, a softer greenback helps support prices for gold, oil and other dollar-denominated assets.
In addition to the rebound in the dollar, commodities were under pressure as investors await the outcome of this week's Group of 20 meeting in Korea, which got underway Thursday.
The G-20 summit comes against a backdrop of tensions between major economic powers over currency and trade policies. As a result, investors were moving away from assets that are considered more risky, such as stocks and commodities.
"U.S. and global currency policies will remain in focus during the G20 meetings which will maintain the risk of volatility," analysts at Sucden Financial wrote in a research note. "The underlying tensions are likely to maintain some degree of risk aversion which would tend to curb selling pressure on the dollar."
Despite the pullback on Thursday, many analysts expect commodities prices to continue rising next year as the dollar weakens and demand from developing nations picks up.
While the global economic recovery to date has been less robust than many had expected, analysts say growth in emerging powerhouses such as China, India and Brazil will boost commodities prices in the months ahead.
"We anticipate continued economic expansion particularly in emerging markets," analysts at BofA Merrill Lynch Global Research wrote in a report. "China, which has during the past few years driven the base metal markets almost single handedly, will in our view remain the critical demand driver."
However, analysts warn that commodities prices could be volatile if the outlook for the dollar changes, or emerging economies come in for a crash landing.