Irish prime minister dismisses bailout rumors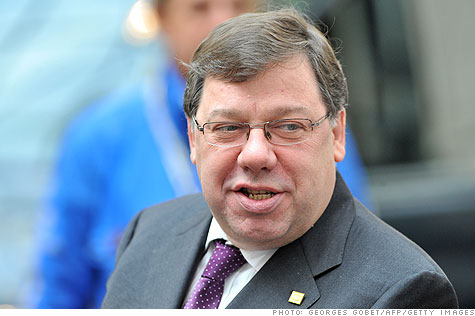 NEW YORK (CNNMoney.com) -- Ireland is not asking for a big bailout for its banks, despite fears that its financial sector could collapse under the weight of a massive debt crisis.
Speaking to Irish parliament Tuesday, Prime Minister Brian Cowen said "Ireland has made no application for external support."
The announcement is not exactly what investors were hoping for, after reports speculated that Ireland would be pressured into seeking a bailout from the European Union or International Monetary Fund, to support its struggling banking sector.
"They were looking for a solution for the banking sector, and there was no indication of that. There was no substance in this announcement," said Dimitris Drakopoulos, Europe economist with Nomura. "We are in very uncertain territory still."
Cowen's speech comes just as European Union finance ministers meet in Brussels to discuss Ireland's debt crisis, and fears that it could have a ripple effect on other struggling European economies like Portugal and Spain.
But before the EU could offer up its assistance, Ireland would first have to submit an official request -- a move Cowen has resisted, even as Ireland struggles with an overextended banking system, falling wages and a staggering 13% unemployment rate.

In his speech to Parliament, Cowen tried to calm fears about the crisis. Ireland's budget is fully funded into the first half of 2011, he said -- meaning the country won't have to borrow more in the bond markets until then.
"The impending sense of crisis that some wish to suggest the Irish state faces is not a fair reflection of the facts," Cowen said.
Nevertheless, Cowen said he remains committed to reducing the country's deficit to below 3% of gross domestic product -- the broadest measure of a nation's economy -- by the end of 2014.
Ireland is forecast to run a deficit of 11.9% of its GDP in 2010. And overall, the country is grappling with a running tab of debt that will total 98.5% of its entire economy this year, Cowen said.
Since 2008, Ireland has enacted strict budget-cutting measures slashing about $20 billion off the country's budget. Now it's time for round two, as Cowen plans to cut an additional $20 billion over the next few years.
"Our revenues and our spending are out of line to the tune of €19 billion [roughly $26 billion] and this is a gap that is presently being filled by borrowing," he said. "This cannot continue. We must continue along the road of budgetary consolidation which we first embarked upon in 2008."