Jobless benefits cost so far: $319 billion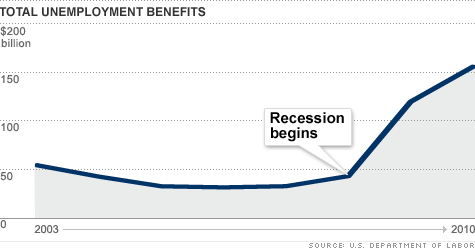 NEW YORK (CNNMoney.com) -- Unemployed Americans have collected $319 billion in jobless benefits over the past three years due to the federal government's unprecedented response to the Great Recession, according to a CNNMoney analysis of federal records.
The cost of such benefits will be central to the heated debate in Congress in coming weeks over whether to extend this safety net for the fifth time this year. Lawmakers must act by Nov. 30 or two million people will start losing extended benefits next month.
The federal government has already footed $109 billion of the bill, and lawmakers are super-sensitive to adding further to the deficit. But advocates are turning up the pressure to extend the deadline to file for federal benefits.
Regardless of what Congress does, employers big and small will be paying the tab for years to come.
Businesses traditionally cover the cost of state unemployment insurance and up to 20 weeks of federal benefits, which kick in when a state experiences high levels of joblessness. At issue now are a third level of emergency benefits -- lasting up to 53 weeks -- first authorized by Congress in mid-2008.
Soaring unemployment has drained the state accounts that typically fund jobless benefits, forcing many states to borrow money from the federal government to cover their payouts. Currently, 31 states have $41 billion in loans outstanding.
Employers are responsible for replenishing these accounts and paying back the loans so their taxes are expected to skyrocket to $64 billion in 2015, up from $38 billion last year, according to the Labor Department.
Companies, however, are hoping to reduce their tax burden. They are lobbying Congress to waive certain penalties and interest related to the loans that will cost them more than $9 billion over the next two years.
"It will discourage employers from hiring new employees just at a time when we want them to be hiring," said Douglas Holmes, president, UWC Strategic Services on Unemployment & Workers' Compensation, a business trade association.
The safety net
The jobless now receive an unparalleled level of support while they look for new positions. Benefits last up to 99 weeks, far surpassing the previous record, which totaled 65 weeks during the recession of the mid-1970s.
Some 8.5 million people are collecting unemployment insurance, including 4.8 million receiving federal benefits.
Advocates argue that this assistance is vital since it's so tough to find work in today's weak economy. The number of long-term unemployed, who have been out of a job for more than six months, stands at 6.2 million.
"The economy is much too weak and the unemployment rate is much too high to go back to a situation in which there are no federal unemployment insurance benefits," said Chad Stone, chief economist at the liberal Center on Budget and Policy Priorities.
Extended benefits are also good for the economy, advocates say. Any money the unemployed receive gets spent quickly to buy essentials, such as food and clothing, as well as to cover mortgage and car payments. The extended federal unemployment benefits also kept 3.3 million out of poverty last year.
But maintaining the safety net comes at a price -- the most recent six-month extension cost $34 billion. This could be a hard sell on deficit-conscious Capitol Hill.
The impact on businesses
Laying off workers has not been cheap for businesses.
The rapid rise in jobless claims has emptied the unemployment trust funds in many states, forcing two dozen of them to increase their tax levies on companies in 2010. Some have raised their tax rates, while others have increased the wage base those taxes are levied on. Some have done both.
Businesses are usually hit with higher unemployment tax rates for several years after a recession in order to refill both state accounts and the federal trust fund, which provides loans to states and pays a portion of the extended benefits.
Taxpayers have had to advance the federal trust fund $39 billion that will have to be repaid by employers in coming years.
The rising unemployment taxes make some employers think twice about expanding their payrolls, Holmes said.
"For every employee they hire, this is an additional cost they have to bear," he said.