Lifelines for the poor are disappearing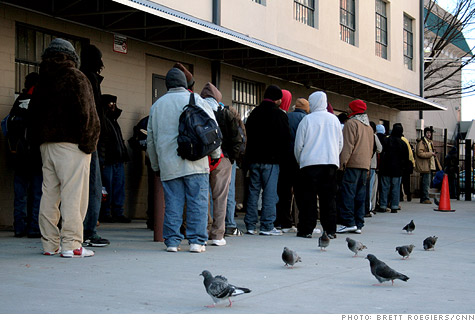 NEW YORK (CNNMoney.com) -- With more people than ever living in poverty, the government's unprecedented effort to strengthen the safety net for needy Americans is running out.
Washington has spent tens of billions of dollars since the start of 2009 on programs to help feed the poor, house the homeless and support the unemployed. But much of this money has been used up or is about to expire in coming weeks and months.
A record 43.6 million people were in poverty in 2009, according to Census Bureau figures released Thursday. That's the most in 51 years of record keeping and equals one in seven Americans. And the situation has likely become even worse this year, with the faltering economy and stubbornly high unemployment rate.
But it could have been even worse had it not been for the federal stimulus program. The Recovery Act kept more than six million Americans out of poverty last year, and reduced the severity of poverty for another 33 million people, according to the Center on Budget and Policy Priorities.
"It really makes a difference between getting to the end of the month or not," said Elizabeth Lower-Basch, senior policy analyst at the Center for Law and Social Policy, an advocacy group known as CLASP.
The $787 billion American Recovery and Reinvestment Act funneled money to a wide range of programs to help the needy. Some of these efforts were single infusions of cash, while others are set to run out soon. Only a few are continuing into 2011 or beyond.
Health care: The Recovery Act set aside $87 billion to assist states covering their soaring Medicaid costs, and Congress then added another $16.1 billion last month. This provision also prevented states from tightening eligibility and reducing benefits. (Number of insured drops for first time.)
Tax credits: The Recovery Act boosted the Earned Income Tax Credit and Child Tax Credit, which are estimated to cost a total of $19.5 billion, as well as put more money in the pockets of low-income workers with the Making Work Pay credit of $400 a person. These tax benefits end this year.
Needy children: The stimulus program also gave $2 billion for child care subsidies and another $2.1 billion for Head Start, an early learning program for needy children, both of which end after Sept. 30. And it provided $13 billion in Title 1 money for disadvantaged school kids, which can be used through mid-2011.
Homeless: The act provided $1.5 billion over three years to prevent homelessness and find places to live for those without a roof over their heads. It increased the maximum food stamps benefit by more than 13% for several years and also sent $150 million to the states for emergency food assistance in 2009.
Unemployed: The Recovery Act pushed back the deadline to apply for extended unemployment insurance, which are now set to run out at the end of November. Jobless benefits alone are credited with keeping 3.3 million people out of poverty last year, according to the Center on Budget and Policy Priorities.
Running out of time
One major stimulus program for the needy has only two more weeks left. The $5 billion boost to Temporary Assistance for Needy Families expires on Sept. 30.
The money, which is distributed to low-income households with children, can be used to provide cash grants, food programs, housing assistance and other aid. It also funds a subsidized jobs program.
Advocates are particularly concerned about the loss of this funding, which goes to pay the rent and put food on the table. The jobs program is expected to put more than 200,000 people back to work.
Another program that would terminate at month's end is the child care subsidy. Many of those beneficiaries would have to quit their jobs if they no longer get help paying for childcare, advocates said.
Looming on the horizon is another battle over the Nov. 30 deadline to extend federal unemployment benefits. Democrats have locked horns with Republicans several times this year before garnering just enough support to lengthen this safety net.
Unemployment benefits, which last a maximum of 99 weeks, have been critical to keeping people afloat during the Great Recession, said LaDonna Pavetti, director of welfare reform and income support at the Center on Budget and Policy Priorities.
With the economy still shaky and jobs hard to come by, all stimulus programs for the poor should be extended, Pavetti said.
"The need is still there," she said. "We will see greater poverty and greater need until the economy has picked up and people can find jobs on their own."