Goldman Sachs: All is forgiven?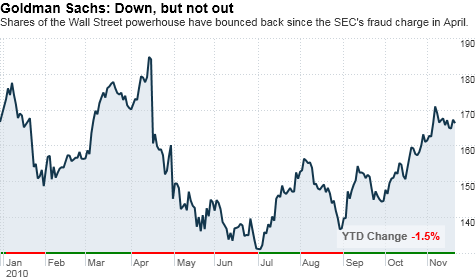 NEW YORK (CNNMoney.com) -- "Doing God's work" is once again a business that investors love.
Poor Goldman Sachs CEO Lloyd Blankfein. He's never going to live down that offhand remark he made a year ago to London's The Sunday Times.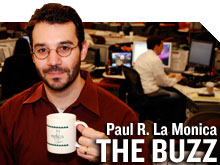 But love him or hate him, you have to give Lloyd and the rest of Goldman Sachs a lot of credit for one thing. Goldman is once again so insanely profitable that it has been forgiven by traders for that whole SEC mess earlier this year.
After the SEC alleged in April that the way Goldman Sachs handled the structuring and marketing of a complex mortgage security known as Abacus was fraudulent, the stock immediately took a nasty tumble.
But shares of Goldman Sachs (GS, Fortune 500) (or "The Goldman Sachs" if you've watched the hilarious Xtranormal Fed QE2 video) are up about 30% from their 52-week low in June. The stock is now less than 10% lower than where it closed the day before the SEC filed its suit against Goldman.
So is it back to business as usual for Goldman? It does appear that the worst may be behind it. Goldman settled with the SEC in July for a record, but still relatively paltry, sum of $550 million.
And all the worries about Goldman losing investment banking market share to the likes of Morgan Stanley (MS, Fortune 500), Bank of America (BAC, Fortune 500), JPMorgan Chase (JPM, Fortune 500) and Citigroup (C, Fortune 500) appear to have been for naught as well.
Looking at the recent results for the company, it's easy to understand why the stock has come roaring back. Even though earnings fell in the third quarter from a year ago, Goldman still reported a $1.9 billion profit. That topped analysts' expectations.
Goldman's vaunted trading desk only lost money on two days during the quarter -- although Chase and BofA actually posted perfect trading quarters -- and Goldman is enjoying a strong pop in investment banking business as the M&A and IPO markets heat up.
The worries about the SEC allegations appear to be so far in Wall Street's rearview mirror that some analysts don't even feel it necessary to discuss them anymore.
The words "SEC", "Abacus", and "collateralized debt obligation" don't appear once in a nine-page report about Goldman by Bank of America Merrill Lynch analyst Guy Moskowski from this week.
Neither does the name of John Paulson, the hedge fund manager that bet against Abacus and was accused of selecting loans he knew would fail, to be packaged into the CDO.
Dick Bove, analyst with Rochdale Securities in Lutz, Fla., said that this isn't surprising. Bove said investors don't need to obsess anymore about what might happen in Washington that could hurt Goldman Sachs. In addition to the SEC case being behind it, the Dodd-Frank financial reform law is on the books.
"I don't think there will be further government bashing of the company. The political risk is now out of the way and concerns about regulatory uncertainty should be set aside," he said.
Bove said the investment call on Goldman is now a lot easier to make. If you believe the broader market will continue to edge higher, Goldman is likely to lead the charge.
"The M&A business is exploding lately and if the stock market doesn't crater, IPO activity should be strong. Goldman could and should go through its all-time high," he said.
That may be asking a little too much though. Goldman's peak price was just over $250 a share. So Goldman would have to climb another 50% or so to get back there.
Plus, the stock hit that level in October 2007. A lot has obviously changed in the financial markets since then and to suggest that Goldman could soon return to where it was trading before the Great Recession may be a bit of a stretch.
Still, Goldman has many other fans. Morris Mark, president of Mark Asset Management, a hedge fund in New York, said that Goldman's stock still looks extremely attractive. His firm bought a stake in Goldman during the third quarter.
Goldman currently trades at about 1.25 times book value, a measure of how much a firm is worth if you subtract its liabilities from its assets. Before the worst of the crisis, Goldman was trading over 2 times book.
Again, it's unreasonable to think it should trade that high again. But it may be too cheap now.
Mark added that Goldman's focus on expanding into markets outside the United States and Europe gives the bank a great chance to capitalize on the growing economic clout of developing countries like China, India and Brazil.
"Goldman is a global franchise. As the world's economy recovers, Goldman is reasonably positioned to take advantage of opportunities in China and other emerging markets," he said.
Sure, Goldman is never going to win over those who distrust Wall Street. But if you're interested in investing in a company that might actually earn you some money over the next few years, you could do a lot worse than Goldman.
Just hold your nose if you're going to buy.
Reader comment of the week. First, I want to thank all the loyal Buzz readers who continue to post comments and I want to apologize for the fact that some readers are spamming our comments section with "It's a little off topic but ... " messages. I realize it's incredibly frustrating for those of you who actually want to post relevant comments.
Along those lines, my favorite from this week was this one from Dave Johnson in response to Wednesday's column about how the dollar has done since the Fed's QE2 announcement. Johnson doesn't seem worried about the weak dollar.
"Other countries keep their currency low and they have the manufacturing jobs and trade surpluses to prove that it has helped their economy," Johnson wrote. "A strong U.S. dollar only helps us become an even bigger country of consumers and borrowers, of foreign made stuff and money borrowed from overseas."
- The opinions expressed in this commentary are solely those of Paul R. La Monica. Other than Time Warner, the parent of CNNMoney.com, and Abbott Laboratories, La Monica does not own positions in any individual stocks.