Netflix raises prices, offers streaming-only option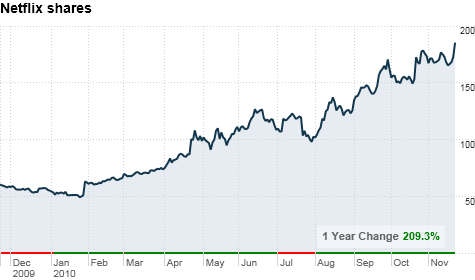 NEW YORK (CNNMoney.com) -- Netflix is raising prices on DVD rental plans, but will offer a new option that relies exclusively on streaming video, the company announced Monday.
The new plan, priced at $7.99 per month, allows customers to instantly watch unlimited TV episodes and movies streamed to a computer or TV. The option includes no DVD rentals, and will take effect immediately.
Meanwhile, Netflix (NFLX) is raising prices by $1 a month on its two most popular plans -- the one and two-DVD at a time options, which will now be priced at $9.99 and $14.99 per month.
Price increases are even steeper on plans that allow three or four simultaneous rentals. The three-DVD price will increase from $16.99 to $19.99, and the four-DVD plan moves to $27.99 per month from $23.99.
"We are now primarily a streaming video company delivering a wide selection of TV shows and films over the Internet," Reed Hastings, Netflix co-founder and CEO said in a statement.
While Netflix continues to ramp up the number of titles available to stream, not every program is available, a tripping point for users who prefer the instant streaming service, but want access to the entire Netflix library.
Netflix shares are up more than 200% since January, and rose nearly 8% in early trading Monday.
Hastings was recently named Fortune's Businessperson of the Year.