The trouble with 'global imbalances'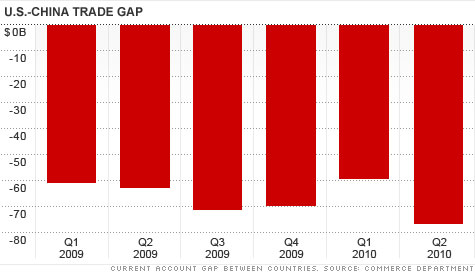 NEW YORK (CNNMoney.com) -- The high standard of living most Americans enjoy could be at risk. And the looming danger is caused by two little words -- "global imbalances."
The term refers to massive trade deficits that have long plagued some countries, most notably the United States, coupled with huge trade surpluses in emerging countries like China.
Economists generally agree that unless world leaders can work to reduce the imbalances, there is potential for a new global economic meltdown.
"It's clear that the trend toward widening deficits in the U.S. and widening surpluses in China can't go on forever," said Dean Maki, chief U.S. economist of Barclays Capital. "But right now it doesn't appear we're on a course to correct these imbalances any time in the near term."
What's so bad about trade surpluses?
Exporting more than it imports might seem like a good thing for China. Indeed, China's strong export economy and recent economic success has lifted millions of its people out of poverty. But carrying such a huge surplus can also feed inflation in China and risk sparking asset bubbles -- lurking dangers that risk throwing the global economy into another financial crisis.
And as China's surplus builds, nations like the United States that are running trade deficits also face risks. Consistently consuming more goods and services than the nation produces means the country needs to finance that deficit by selling assets, such as U.S. Treasuries, to their overseas trading partners.
"Eventually, the rest of the world will refuse to lend to us the money we need to keep consuming and then we'll go through a very tough recession," said Jay Bryson, global economist with Wells Fargo Securities.
Even if the U.S. doesn't suffer that kind of debt crisis, Americans could find their dollars being worth less in global markets if the trade gap continues to grow, which would make the price of imported goods, as well as commodities such as oil and food, more expensive. Interest rates would likely rise, putting an additional drag on U.S. growth.
Forget 'currency wars'
China has been accused of deliberately devaluing its currency, the yuan, in order to give its exports an unfair advantage in global markets by buying up U.S. dollars while selling its own currency.

And now the United States is facing criticism for lowering the value of the dollar for the very same reason. The recent move by the Federal Reserve to pump an additional $600 billion into the economy has faced backlash from global policymakers who accuse the U.S. of trying to deliberately devalue its currency.
But fixing currency imbalances with China won't solve the problem by itself. When the Chinese allowed the yuan to rise nearly 20% in the years leading up to the 2008 financial crisis, the trade gap between the two countries still swelled by more than 40%.
What's more, the U.S. has a trade deficit with most of its trading partners, even ones with a freely floating exchange rate.
The real problem is overspending by U.S. consumers, and not enough spending by consumers in some of those other markets.
"The bottom line is we overconsume," said Diane Swonk, chief economist at Mesirow Financial. "What [rebalancing] means is fundamentally changing what we're doing. It's going to be painful."
How to reduce that overconsumption by Americans, and how to spur spending by consumers in emerging economies such as China and India is not easy, according to economists.
"It's inevitable that it will happen. The question is how," said Bryson. "Exchange rates help on the margin. But at the end of the day savings and investment are the big things that can bring us back to balance."
The blame game
Many economists say further reductions in spending are needed if there is going to be a rebalancing without a crisis.

But less spending means less economic growth and fewer jobs, so cutting back will be especially difficult at a time when the economy remains so fragile.
Certain changes in tax structure -- such as a new value-added tax -- could encourage less spending, Swonk said, while reducing the burgeoning budget deficit.

But most elected officials would rather push other countries to make difficult changes rather than make tough decisions at home.
"It's always going to seem better to increased demand in key emerging market countries," said Maki. "No policymaker would advocate the U.S. going into recession to trim its [trade deficit]."
So most leaders continue to focus on external forces.
During a panel discussion of central bankers last week, Fed Chairman Ben Bernanke said much of the blame for global imbalances rests with export-driven economies like China keeping their currency value artificially low. He said that needs to change.
But even he conceded that the U.S. needs to change as well in order to address the imbalances in the global economy, including boosting savings and investment and closing long-term government deficits.
"I think it will be very difficult for exchange rates by themselves to restore balance," he said. "Structural adjustments on both sides have got to be a part of that."