Black Friday: Toys R Us starts the frenzy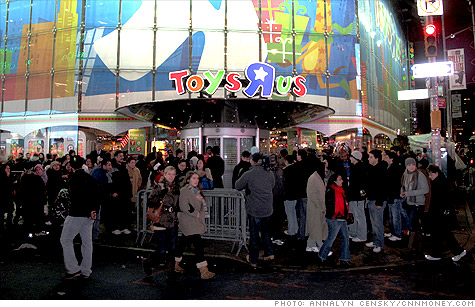 NEW YORK (CNNMoney.com) -- Who knew that all it took was a 2-hour time change to bring out a mob of newcomers to the Black Friday craziness?
Toys R Us, the nation's largest toys-only retailer, got a head start on the holiday shopping craze, when it opened at 10 p.m. on Thanksgiving Day for the first time.
The line outside the flagship toy store in Times Square started forming at 7:30 p.m. It was dominated by passers-by and tourists who had heard the store would be opening its doors at 10, offering 150 doorbuster deals on everything from iPods to Barbie dolls.
New Yorker Adam Erickson had never braved a Black Friday before, saying it wasn't his "thing." But this year, he was walking by when he saw the line start forming.
An avid collector of Transformers action figures and GI Joes, Erickson set up on the cold pavement, bundled up in his winter coat and watched a Batman cartoon on his laptop.
"I just walked by and thought 'why not.' It was a very last minute decision, and they have some pretty good deals," he said.
He was one of the first in the store, and one of the first out, leaving with about seven new additions to his toy collection.
In the past, Toys R Us has opened its stores at midnight or 5 a.m. This year, it tried something new with a 10 p.m. start, hoping to draw even more customers.
Based on the queues, the strategy appeared to work. An hour ahead of the opening, hundreds of eager shoppers lined up outside the Times Square store, winding around the corner and to the next block.
"We're off to a great start," said Toys R Us CEO Gerald Storch. "I've been getting reports from all over the country and the lines have anywhere from between 500 to 1,000 people at every Toys R Us store nationwide."
The 10 p.m. opening in New York also drew shoppers from as far away as South America and Europe.
Ana Carolina Bonhilha and Ana Paula Cruz came all way from Brazil to experience their first Black Friday in the States. After shopping in the store earlier in the day, they were able to secure the much-coveted first spot in line.
Armed with two suitcases and about $1,100, they were looking for deals on Nintendo Wii games, Guitar Hero, and a Baby Alive doll -- and whatever else could be stuffed into their luggage.
"We think all will be on sale," Bonhilha said. "A lot of these things are so expensive in Brazil. We're traveling and actually saving money."
Danielle and John Van der Moeuer from the Netherlands also braved the lines to fill their suitcases with "Toy Story 3" figurines, gearing up for both St. Nicholas Day and Christmas.
"Everything is a deal here because the dollar is so much lower than the euro," John said.
Lines snaked throughout all three floors of the store and around its iconic Ferris wheel.
The hottest deals drew the longest queues to the electronics section, where the store gave out $50 gift cards with the purchase of an iPod Touch or an XBox 360. Video game sales were perhaps the biggest highlight among teenage boys, and You and Me baby dolls were popular for little girls.
"We're going to work the baby doll section, grab an Icee-maker and a Crayola set," said Daneesha Commander of New York, while waiting in line. She and her family left about an hour later with three giant bags of toys and a nearly 20-inch receipt totaling $108.
"The after-party is at Old Navy which opens at midnight," she said. "Then we'll take a nap and head out again tomorrow from 1 to 5."
Not everything was drawing a crowd though. While Toys R Us was pushing its exclusive Santa-Sing-A-Ma-Jig toy hard this year -- it was getting merely a few laughs, but not flying off the shelves.
After two years of dismal holiday sales, retailers are looking for a better -- but still not great -- 2010 holiday season.
Storch is a bit more optimistic though.
"I believe this will be the biggest Black Friday ever. Customers have a lot of pent-up demand, and they're looking for values. Black Friday is about bargains more than anything else," he said.