Black Friday 2010 gets a Thursday start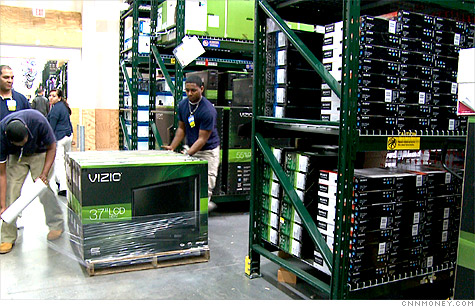 NEW YORK (CNNMoney.com) -- 'Tis the season of extreme bargain hunting, so retailers better give Black Friday shopping fanatics exactly what they're expecting this year: the deals of a lifetime.
They started to do so Thursday, with several national chains opening for a few hours to draw early-bird business for the big shopping season.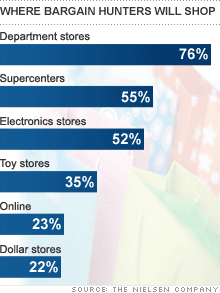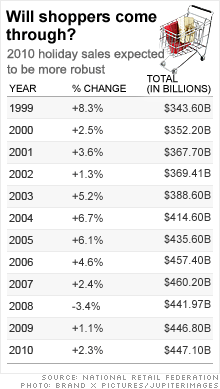 Sales figures for the 2010 holiday are expected to be good, but not great. Still, "good" would be a vast improvement over two years of dismal holiday sales.
Retailers have a tough challenge ahead of them.
"Consumers are very frugal these days and it's because of the economy," said George Whalin, CEO of Retail Management Consultants.
"Nothing is settled in the economy. There's high unemployment and a backlog of foreclosed homes," he said. "To consumers, there's still a fundamental problem with the economy."
To get shoppers to part with their dollars in the crucial run-up to Christmas, stores are going to get aggressive and fight for every potential customer, said Whalin.
A Thursday start to Black Friday: Black Friday, the day after Thanksgiving, typically marks the start of the annual holiday gift-buying marathon and stores are fully aware of the uphill battle that awaits them in the coming weeks.
Eager to jumpstart Black Friday sales, more large national retailers broke their norm by opening on Thanksgiving Day.
Sears (SHLD, Fortune 500) was open from 7 a.m. to noon on Thursday, and the manager of its Grand Forks, N.D., store said business exceeded expectations.
"Customers said they were taking advantage of the deals today without having to fight the huge crowds of Friday," said Marty McDonald.
McDonald said customers made a beeline for the electronics bargains advertised by Sears. In addition, there was brisk business in appliances and clothing.
Kmart, which is part of Sears Holidings, also opened Thursday.
Black Friday was to start a little early whenToys R Us opened its stores nationwide at 10 p.m.
Wal-Mart, the world's largest retailer, also pushed up its Black Friday start. All Wal-Mart (WMT, Fortune 500) stores were to open at midnight, about five hours earlier than their typical day after Thanksgiving start in recent years.
Sticking to a mission. Most malls were sticking to a midnight or pre-dawn start.
Mall operator GK Development's nine malls will open at 7 a.m. on Black Friday, said Marianne Fasano, spokeswoman for GK Development.
While these GK's malls will offer coffee and snacks to early bird shoppers, Fasano said they will cut back on entertainment and other distractions this year.
"We've learned that shoppers are very focused on their [gift] lists. They have a mission on Black Friday," she said. "So unlike we've done in the past, the entertainment is not necessary."
Simon Property Group (SPG), the nation's largest mall operator, is opening some malls at midnight and others at 5 a.m.
"Our Woodbury Commons Premium Outlet in New York will open at midnight," said Simon Property spokesman Les Morris.
Simon malls, however, aren't holding back on the frills. Morris said each of the company's malls will feature "lots of entertainment" and have a designated "rejuvenation station" to recharge shoppers with sofas, TVs, free coffee and snacks.
Other malls under the Simon umbrella are going high-tech and leaning on social networking to create Black Friday buzz.
Simons' 13 Mills malls nationwide will introduce an online shopping assistant named "Ms More" via Twitter on Black Friday who will offer tips, up-to-the-minute deals and answer shopper questions.
"The MORE Factor" icon will also appear on Facebook, offering fashion advice with videos on how to shop efficiently and find the best deals.
How will Americans shop on Black Friday?
The holiday season is critical. Combined November-December sales can account for as much as 50% of stores' sales and profits for the full year.
Sales in those two months fell 3.9% in 2008 and rose an anemic 0.4% last year. The forecast this year is for sales to increase 2.3%, according to the National Retail Federation.
Middle-income and high-income households will fuel holiday sales this year, said Bob Duffy, leader of retail industry practice for FTI Consulting.
"These are the consumer groups that are feeling more confident about their jobs and personal wealth," he said, while low-income consumers are still very cautious about their discretionary spending.
Still, Duffy's forecast is for a 3% holiday sales gain. "I think it will be a good Christmas."
And Marty McDonald of Sears in Grand Forks heard positive things from the early-bird shoppers.
"Customers I talked to said they would be out again tomorrow to shop," he said.