Starbucks-Kraft battle gets bitter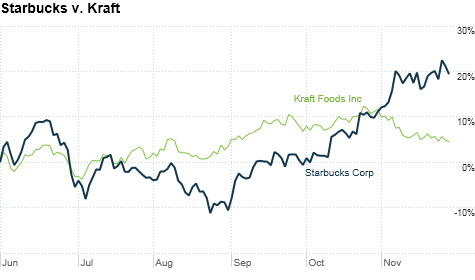 NEW YORK (CNNMoney.com) -- Kraft Foods Inc. said Monday it is seeking arbitration in its battle with Starbucks Corp. as the coffee chain tries to end a deal under which Kraft distributes packaged Starbucks coffee to grocery stores.
In a statement, Kraft (KFT, Fortune 500) argued that its contract with Starbucks (SBUX, Fortune 500), which dates back to 1998, remains in effect "indefinitely" and requires "sufficient time for Kraft to execute an orderly transition."
Kraft also said that the contract calls for Starbucks to compensate Kraft for the fair market value of the business, plus a premium of up to 35% of that value. The packaged foods company claimed its resources and expertise helped build Starbucks' retail grocery coffee business from generating less than $50 million in annual revenue to about $500 million in sales each year.
"Starbucks unilaterally and unjustifiably declared in public statements the agreement's termination," said Marc Firestone, Kraft general counsel, in a statement. "In effect, Starbucks is trying to walk away from a 12-year strategic partnership, from which it has greatly benefited, without abiding by contractual conditions."
In response, Starbucks said it "strongly disagrees with Kraft's recent characterizations." It said that Kraft did not hold up its end of the bargain under certain aspects of the agreement, including working closely with Starbucks involving the company with significant marketing decisions and customer contacts.
Starbucks claimed it raised the issues with Kraft but never saw any improvement.
"Kraft's failure to meets its responsibilities resulted in the erosion of brand equity and the experiences at grocery that Starbucks customers have come to expect through their experience in Starbucks stores," the Seattle-based company said in a statement. "In light of Kraft's failure to cure its breaches of the agreement, Starbucks has exercised its right to end the relationship."
The dispute between the companies first came to light earlier this month, when Starbucks announced that it had notified Kraft of its decision to terminate the partnership in October.
Kraft fired back, saying the agreement between the companies is "perpetual" and would require Starbucks to pay fair market value for the business plus a premium.
Shares of Starbucks fell 2.7% Monday, which Kraft's stock slipped 1%.