No work happening today - it's Cyber Monday!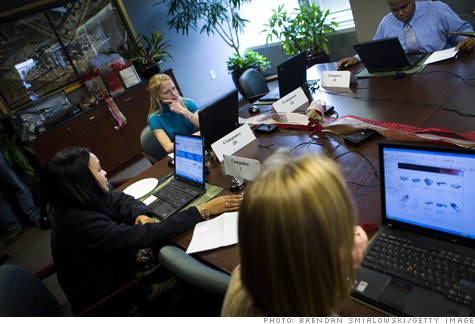 NEW YORK (CNNMoney.com) -- Squeezing in some holiday shopping at your desk today? You are not alone.
Nearly half of Americans plan on holiday shopping during their work day this season, according to a recent survey by staffing firm Adecco. But not all of that will be happening during lunch breaks: About 14% of shoppers plan to hunt bargains when they should otherwise be working.
That is particularly true today, when some 106.9 million Americans are expected to shop online for Cyber Monday, the biggest online shopping day of the year. That's up from 96.5 million shoppers last year, according to the National Retail Federation.
But chasing those sought-after Cyber Monday deals can take time. A separate survey by staffing firm Randstad found that, among workers who plan to shop online for the holidays during work hours, 40% plan to only spend an hour or two doing so, though 33% plan to spend over five hours.
"It's going to certainly impact productivity," said Paul Shanahan, a regional vice president at Adecco. He cautions workers to be very aware of their company's electronic policy. "There may be some enticing deals out there," he said, but "no online shopping discount is worth placing their career at risk."
For companies that monitor their employees activities online, the consequences for a little online shopping can be severe, Shanahan said. However, employers may give more leeway during certain time of day, particularly around lunch.
To keep productivity up, Dannible & McKee, a small accounting firm in upstate New York, is giving their employees time during lunch hour to shop from their desks.
Frank Merkel, Dannible & McKee's systems administrator, said he will allow access to certain kinds of sites that are normally blocked -- including sports, social networking, personal banking and shopping -- between 12 and 1 p.m.
He said allowing an open hour on one of the heaviest online shopping days of the year made workers "a lot happier." Even Merkel says he plans to check out JCPenney.com later on for some holiday deals.