Prepaid Kardashian Kard is rife with fees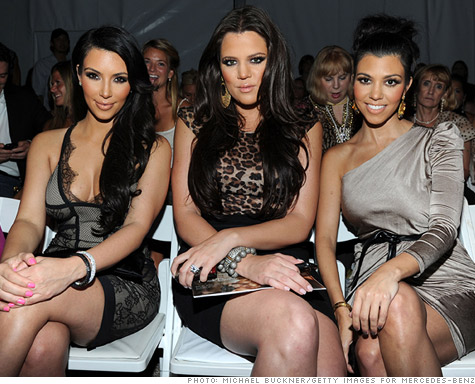 NEW YORK (CNNMoney.com) -- UPDATE: Kardashian sisters cancel card.
As Americans ditch their credit cards and look for debt-free ways to manage their spending, even celebrities are cashing in on the rush to prepaid cards.
The Kardashian sisters -- best known from their reality TV show "Keeping up with the Kardashians" and famous for their stylish clothes and luxurious lifestyles -- are the latest stars to launch a prepaid card, following in the footsteps of Carmen Electra, Russell Simmons, Usher and Hilary Duff.
But just because Kim Kardashian is now smiling at you as you swipe your Kardashian Kard, doesn't mean you're going to be smiling when you find out how much you're really paying for these glitzy cards.
While regular bank debit cards are typically free and don't charge any fees, a 12-month Kardashian Kard costs $99.95 just to own, including a card purchase fee of $9.95 and 12 monthly fees of $7.95. After the first year, consumers must continue to pay the $7.95 monthly fee.
On top of these initial fees, it costs Kardashian Kard users $1 every time they add money to their card, and it costs $1.50 to speak with a live operator. If they want to pay their bills automatically using the card, they'll be charged $2 per transaction.
In exchange, consumers can make payments online, over the phone or in stores without racking up credit card debt or overspending their checking accounts. That had made them increasingly popular among consumers who don't qualify for credit cards, are fed up with skyrocketing interest rates or are young and just entering the world of plastic.
"The card has all sorts of fees that make it enough to stay away from, and it hit a chord with me because I'm a parent and I don't know if I want that kind of lifestyle being promoted among kids," said Bill Hardekopf, CEO of LowCards.com.
"Those girls are very popular, so kids are going to go to parents and say, 'I want one of these cards,' and the parents may say, 'hey, this is a great way to show little junior how to start doing this,' without knowing whether it's a good deal or not. But it's a terrible deal."
But it's a great deal for the Kardashians, who get a significant cut of the fee revenue generated from the cards and get to extend their name recognition.
"None of these celebrities are going to get rich off of these cards -- they're already rich to begin with," said Ron Shevlin, a senior analyst at Aite Group. "For the most part, this is an absolutely incredible publicity play."
Shevlin said that by putting a prepaid card in the hands of their target audience, the Kardashians are attracting advertisers to their show who will come up with special deals and discounts that Kardashian fans can then hop online and use their Kardashian Kard to buy.
"I'm very convinced this is just the tip of the iceberg when it comes to celebrity prepaid cards," said Shevlin. "It's an integrated marketing play that is appealing to a lot more than just the Kardashians."
Some government officials are so concerned that they are speaking out against the new card.
"Among the prepaid debit cards now on the market, the Kardashian Kard is particularly troubling because of its high fees combined with its appeal to financially unsophisticated young adult Kardashian fans," said Connecticut Attorney General Richard Blumenthal in a warning issued Friday. "Keeping up with the Kardashians is impossible using these cards."
Plenty are trying, though. A spokeswoman for Sunrise Community Banks, the holding company for the issuer, University National Bank, said the card's website has been receiving thousands of visitors a day, "many of whom register for a card."
In fact, the amount of money loaded on prepaid cards in the U.S. shot up 33% to $24 billion last year, from $18 billion in 2008. Volume is expected to hit $104 billion by 2014, according to a report from research firm Aite Group.
"Prepaid card issuers started out by targeting the lower income and under-banked, and now we're seeing the teen market and college market being targeting," said Gail Hillebrand, a senior attorney at Consumers Union. "The cards are touted as safer than cash and easier than a regular bank account, but in the end it's going to cost more than a bank account and there is more risk assumed."
That's because, like the new Kardashian MasterCard, prepaid cards are loaded with charges -- including activation fees as high as $40, monthly fees of up to $10, paper statement fees of as much as $5.95, inactivity fees up to $9.95 and customer service fees as high as $3.95.
And most prepaid cards don't offer the same protections as debit and credit cards.
If fraudulent charges appear on your account or your card is lost or stolen, you might not be able to get your money back. And because your card is not associated with a bank account, your money is also less likely to be FDIC insured, meaning that there is not guarantee you will get your money back if your card issuer fails.
If you're worried about spending money you don't have but want to avoid dishing out thousands of dollars in hidden fees and risking weak protection, Hillebrand recommends getting a debit card instead.
"You don't even have to get or use the checks that come with your debit card," she said. "But the truth is, if you're not ready for a checking account, you're not ready for a prepaid card either."
But remember, ditching your Kardashian Kard will cost you another $6.