Holiday cheer in the air: American's Happy Hour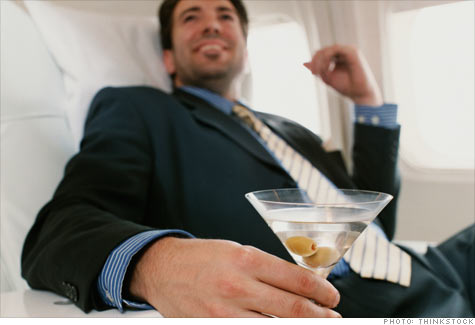 NEW YORK (CNNMoney.com) -- American Airlines has a new tonic for the travails of air travel: Happy Hour.
American unveiled a plan Wednesday to offer discounted alcoholic drinks on domestic flights that take off during the hour between 5 p.m. and 5:59 p.m. local time.
During that time, the airline will knock $1 off the price of beer and $2 off liquor and wine. This means that all drinks will retail for $5 each.
Happy hour lasts for the duration of the flight, not just the hour after 5 p.m., the airline said. The deal lasts through the month of December.
The deal is good on AMR's (AMR, Fortune 500) American Airlines flights, which only accept credit and debit cards for onboard purchases, and on American Eagle and American Connection flights, which only accept cash.
First and business class customers are unaffected by this deal, the airline said, as their drinks are included in the price of the fare.