Lowe's recalls 11 million shades, blinds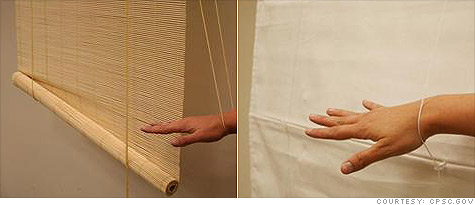 NEW YORK (CNNMoney.com) -- Home improvement retailer Lowe's said Wednesday that it is recalling 11 million Roman shades and blinds because they could strangle young children.
Lowe's (LOW, Fortune 500) said it was recalling about six million Roman shades and five million roll-up blinds because two children were nearly strangled by the products. The action followed the recall of millions of similar products from other companies last year.
The cords in the shades and the "lifting loops" in the roll-up blinds present strangulation risks to children, who can get their necks entangled in the loops or the cords, according to Lowe's and the U.S. Consumer Product Safety Commission.
"CSPC is aware of two incidents of children that became entangled in the exposed cord found on the backside of Roman shades while looking out of windows," said Lowe's and the CSPC, in a joint statement.
They said that a two-year-old boy in Arvada, Colo. "was found with the inner cord wrapped around his arm and neck" in November 2009. They also said that a four-year-old boy in Lexington, S.C. "suffered a rope burn to his neck after becoming entangled in the cord of a Roman shade."
They also said that no incidents have been reported with the roll-up blinds, but they're being recalled anyway.
The shades were sold at Lowe's from 1999 through June 2010 and the blinds were sold between 1999 and 2005.
In December 2009, the CPSC announced that millions of Roman shades and roll-up blinds were being recalled because of strangulation risk.
At the time, the CPSC said it received reports of five deaths and 16 "near strangulations" from Roman shades since 2006, as well as three deaths in roll-up blinds since 2001.
The CPSC named 25 companies in that original recall, including retailers such as WalMart (WMT, Fortune 500), JC Penney (JCP, Fortune 500) and Ikea.