Cancun climate talks don't faze industry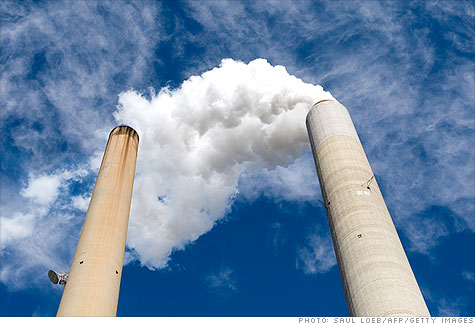 NEW YORK (CNNMoney.com) -- Industries that emit large amounts of greenhouse gases don't expect any new restrictions from the incoming U.S. Congress or the ongoing international climate talks in Cancun, Mexico.
While the industries are concerned about new regulations from the Obama administration, the type of sweeping rules on greenhouse gases were seen as virtually inevitable two years ago now appear off the table. As a result, new investments in things such as coal-fired power plants are pushing ahead.
"We'd don't expect any legislation in the foreseeable future," said Carol Raulston, a spokeswoman for the National Mining Association, which represents the coal industry.
Like most Washington watchers, Raulston's idea of "the foreseeable future" only extends out about two years. But she said any uncertainty over what future lawmakers may do "doesn't seem to be affecting how people are investing."
This is in sharp contrast to 2008, when concern about global warming was running high and both presidential candidates supported a cap on carbon dioxide emissions.
At that time, utility executives and others from energy-intense industries complained that the uncertainty over what the new regulations would look like was putting new investments in things such as power plants on hold.
But in the last two years, while the science has not changed, skepticism has grown in the public's mind over just how serious a threat global warming is, especially among the incoming class of Republican lawmakers that will control the U.S. House of Representatives.
The struggling global economy has also diminished the appetitive for what likely would be costly measures to cut carbon dioxide emissions. And international climate talks last year in Copenhagen, where a successor to the expiring Kyoto Protocol was supposed to have been drawn, went nowhere.
The current climate talks in Cancun are yet another attempt to secure a replacement to the Kyoto treaty, which expires in 2012 and to which the United States is not a party.
Few, if any analysts expect a successor to emerge from Cancun. The best people hope for is incremental progress on thorny issues and a commitment to keep trying.
But some in industry see even that attempt as futile.
"I don't expect a continuation of Kyoto," said Tom Gibson, CEO of the American Iron and Steel Institute. "It's become too big, too unwieldy."
While Gibson isn't expecting any climate laws from the United Nations or the U.S. Congress, he is concerned about action from the Environmental Protection Agency.
EPA, acting under court order, is beginning to regulate the amount of carbon dioxide big polluters can put into the atmosphere. New rules take effect this January.
So far the rules have been fairly lax, with most of the emphasis placed on greater efficiency.
But Gibson says the steel industry, like many industries, already has a financial incentive to be more efficient. He fears more EPA regulation will make the U.S. steel industry uncompetitive with counterparts in counties that lack similar rules.
As for investments, he said the slack economy makes it tough to point to anything that been canceled or started and say it's due to looming regulation, or the lack of it. He does expect EPA's actions to have "a chilling effect" on future investment.
In the chemical industry, another energy-intensive sector of the economy, the same belief exists: no threat of sweeping greenhouse gas laws, but fear of an encroaching EPA.
"Any proposal to put a high price on carbon just isn't going to happen in this Congress," said Cal Dooley, CEO of the American Chemistry Council.
As for EPA's activity, he said, "this creates a great deal of uncertainty we didn't have a year ago."
Regardless of what industry and Republicans in Congress think, environmentalists will likely push ahead with calls to regulate greenhouse gases.
They often point out that industry warns of job losses when threatened with any new regulations, and say those losses are seldom as steep as feared.
And if it's not job losses the industry fears, it's the inflation that complying with new regulations would cause in a tight labor market.
"No matter what state the economy is in, there's always a way to complain," said David Doniger, policy director at the Natural Resource Defense Council's climate center.