House hunters are too scared to buy despite low prices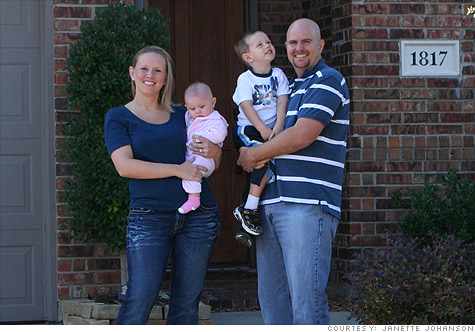 NEW YORK (CNNMoney.com) -- Despite some of the best home-buying conditions in years -- affordable prices, low interest rates and lots of choices -- fear of buying has infected the market.
It has paralyzed house hunters, making them unable to pull the trigger even on attractive deals. Some are worried about making the payments, while others are convinced they'll save even more if they wait.
It's perfectly natural that they should feel that way in the wake of the housing bust, said Lawrence Yun, the chief economist for the National Association of Realtors. "It's like when the stock market is crashing," he said. "People are waiting to see if deals will get better."
In fact, home sales are down by about 25% from last year, which means a lot of people are sitting on the sidelines. And real estate agents are having to get used to the fear of buying trend.
Anne Williams, an agent with Wallace & Wallace in Knoxville, Tenn., said, "I have several buyers that fit this category. I have learned not to be too pushy. Buying a home is a big decision and if they aren't convinced that now is the time, I back off."
Even in markets that have not experienced a devastating price decline, buyers are still very wary.
"I have to convince people that the market is not as horrible as they think," said Zachary Bales-Henry, an agent in Des Moines.
One of his clients has looked at scores of homes over the past 18 months but has yet to purchase.
"My primary concern is being able to afford the home with one salary," said Jess Mart, a 21-year-old hairdresser. "I'm single and I would have to rely on other people renting a room from me to pay the mortgage."
Living in inexpensive, stable Iowa makes home price declines less of a concern for Mart, who is considering starter homes in the $100,000 range.
In more volatile markets, the price level may matter more. In Long Beach, Calif., for example, home prices have fallen about 35% since peaking in 2006, so house-hunter Juan Banuelos wants to minimize the risk of further price drops. He is looking in the $200,000 price range and has considered many foreclosures, comparing the current listing prices to past selling prices.
But the 28-year-old, who is fresh out of the U.S. Army and enrolled at Cal State, found that none were move-in ready. "I saw some houses that needed way too much repair or remodeling," he said.
When he recently bid on a house, it was because the $195,000 price tag was far below the $417,000 it last sold for. "I felt like it had already come down as much as it would," he said.
Tim Zembek, another Long Beach resident, has been house hunting over the past couple of years. But he has always held back, fearful about his own financial health even though he has paid off his car loan, student loans and credit cards, and saved for a down payment.
The 46-year-old director of education has even moved into a more expensive rental to test out his ability to pay a higher amount. That has given him more confidence -- "It told me I could afford to buy" -- although he still hasn't been able to sign on the dotted line.
Some established buyers have a worry first-timers don't: Selling their existing homes. Janette Johanson and her husband, Erik, couldn't pay for two mortgages at once so felt like they couldn't buy until they had a sure deal on the old house.
"We put up our own house for sale but we were too scared to go out and look for another," said Johanson of McKinney, Texas. "One of the scariest parts was, what if one of us loses their job."
To reassure themselves, they did a lot of research, studied spreadsheets of estimated costs, and peppered sellers with questions. With that information and some advice from Johanson's dad, a recent homebuyer, they finally overcame their fears and purchased a four-bedroom in mid-November.
Easley, South Carolina residents Tonya Hines and her husband Jason looked for divine help to deal with house hunting fears.
"We prayed about it -- and we got stop signs," said Tonya.
One stop sign was that any house that interested them soon sold. God must not have wanted them to buy it, they told themselves. So they stopped shopping and started saving.
The couple was living in Jason's grandfather's house, paying only taxes and other small expenses, so they were able to hoard cash and build up a down payment of 20%.
The couple still worried over their jobs, though.
Luckily Tonya's employer was understanding. When she asked to dash out to look at homes, he not only reassured her that was okay, he encouraged her to make a purchase.
"That took away a lot of the worry over job security," said Tonya.
They're now the proud owners of a three-bedroom ranch, their angst ended -- mostly.