Make Money in 2011: Your Home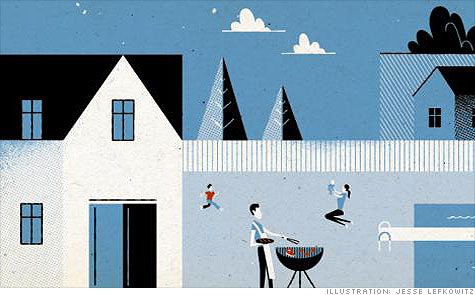 NEW YORK (MONEY Magazine) -- Location, location, location. In the latter half of 2011 that adage should come back into vogue. But first, more declines.
C'mon, you're thinking, you've been hearing for months that prices have been more or less stable nationwide. True, but the still-soft job market, the foreclosure crisis, and the absence of incentives such as the homebuyers tax credit will push down the median home price another 5% or so next year, according to Moody's and Fiserv, before it stabilizes by late 2011 or early 2012.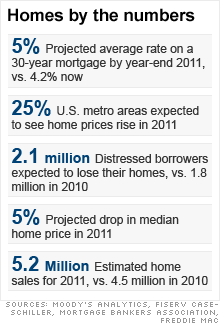 Individual markets, though, will start diverging from the downtrend by summer. About one-quarter of the nation's 384 metro areas should see higher prices by year-end, and half will see drops of less than 3%. (Get your local forecast at with our pricing tool.)
Certainly, conditions will favor anyone in the market to buy a new home -- or homeowners looking to refinance. Today's record low mortgage rates, averaging 4.2% for a 30-year fixed term, are expected to remain low at least through the first half of the year.
Even if the economy picks up steam in the latter half of 2011, rates are unlikely to climb higher than 5%, says Amy Crews Cutts, deputy chief economist at Freddie Mac.
On top of that, assuming that banks can solve their issues with poorly documented foreclosures, home seizures will revert back to record highs, creating competition for sellers and keeping a lid on home values.
The combination of low prices, cheap mortgages, and a slowly improving job market should gradually entice buyers back to the market, setting the stage for prices to stabilize.
Demand, though, won't be strong enough for values to rise substantially, largely because the weak labor market is depressing new household formation as family and friends opt to live together, and recent graduates return to their childhood bedrooms, says Patrick Newport of IHS Global Insight.
Only about 350,000 households are forming a year, vs. 1.3 million typically. "All you hear about is foreclosures and the supply problem," says Michael Castleman Sr., CEO of housing research firm Metrostudy. "But the bigger problem is demand."
WILDCARDS: Foreclosures. If the investigations into robo-signed seizure documents and other issues turn up more problems for banks, foreclosures could be halted indefinitely. That would prop up prices in the short run but weigh them down over the long run.
Jobs. Housing demand could rise if the labor market picks up faster than expected. In that case, prices would firm up earlier in the year.
WHAT TO WATCH: Signs of an improving market: three straight months of rising sales and a decreasing inventory of homes (a six-month supply is considered healthy; today it's 11 months). A local agent or realtor's association can supply you with that data.
ACTION PLAN: Buyers. Don't try to time the market perfectly. Even if prices fall a bit more in your area, mortgage rates could rise later in the year, offsetting the drop. Initially bid about 10% below what comparable homes have sold for over the past three months; go even lower if the area is rife with foreclosures.
By contrast, if well-priced houses in your desired area are receiving multiple offers -- your agent will know -- bid close to list price. But don't engage in a bidding war, says Mark Foreman, senior vice president at Century 21. Plenty more homes will be coming onto the market.
Until your house keys are in hand, don't change your financial profile don't buy a car, take a new job, or pay a loan late. Increasingly lenders are re-pulling credit reports and reconfirming jobs just before closing, says Jim Gillespie, president of Coldwell Banker. Any changes could kill the deal.
ACTION PLAN: Sellers. Hang on a few more years until the market recovers. Can't hold off? Then try to unload fast.
Prices will be falling in most areas for the next several months and, depending on your location, the foreclosure slowdown in place may temporarily reduce your competition, advises Ellen Klein, a realtor in Rockaway, N.J.
Wherever you are, pricing your home right is key. Buyers typically put an upper limit on their search in increments of $25,000 or $50,000. If your house is priced at $365,000, shoppers who cut their search at $350,000 may never see your home.
Best idea: Slightly underprice your house. More often than not you'll attract numerous buyers who bid up the price, and you'll end up getting fair value in much less time.
ACTION PLAN: Investors. Assuming foreclosures have slowed where you are, hold off until a few months after they ramp up again. Until then, inventory will be limited, and that will set a floor under prices. When you're ready to make your move, paying in cash will better the odds of a winning bid, says Foreman.
ACTION PLAN: Owners. One word: refinance -- even if you just did it a few years ago, urges Keith Gumbinger of HSH.com, a mortgage information publisher.
If you can shave at least one point off your rate and plan to stay in your home for at least four years, a refi makes sense. On a two-year-old $300,000 loan at 6.5%, refinancing will save you $465 a month and $120,000 in interest.
Or go with a 15-year loan, which averages 3.7%. Your payment will jump $225, but you'll own your home 13 years earlier and save $253,000 in interest.
Underwater or have little equity? You may be able to refinance through a federal program known as HARP (for details go to making-homeaffordable.gov). Have funds to spare? A cash-in refi, in which you put in enough to reach 10% or 20% equity, will let you nab those record low rates.
Make Money in 2011: The Economy
Make Money in 2011: Your Investments
Make Money in 2011: Savings & Credit