Amazon flings money at Groupon rival LivingSocial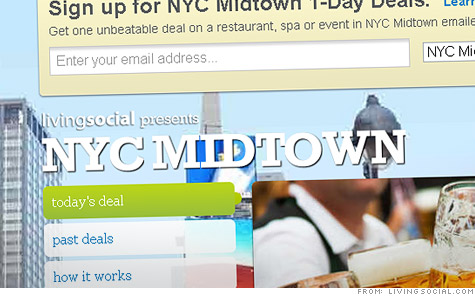 NEW YORK (CNNMoney.com) -- Get ready for a clash of titans. As Google negotiates to buy daily-deal website Groupon in what is likely to be its most expensive acquisition ever, Amazon.com swooped in Thursday with a $175 million investment in LivingSocial, Groupon's most successful competitor.
The deal shines a light on just how lucrative the daily-deals market has become. LivingSocial is currently booking average daily sales of more than $1 million, and is projected to top $500 million in revenue in 2011, the company said. Based in Washington, D.C., the site has 10 million subscribers in the U.S., Canada, U.K., Ireland and Australia.
LivingSocial plans to use Amazon.com's massive e-commerce heft to fight off its older and larger rival.
"To be the biggest player in the local commerce space there is no one better to work with than Amazon," co-founder and CEO Tim O'Shaughnessy said in a prepared statement.
LivingSocial was founded in 2007 as a social discovery and cataloging network that let people share their favorite books, movies, restaurants and other finds. It launched its daily deals service in July 2009, eight months after Groupon pioneered the model.
It has a few unique twists: Every time a purchase is made, the user is emailed a link to share with friends. If three people purchase the deal using the link, the user's deal is free.
LivingSocial badly trails Groupon in daily use. In a survey tracking 81 group buying sites, measurement firm Experian Hitwise found that 79% of U.S. visits last week went to Groupon. Living Social got 8% of the traffic.

The company is backed by investors including AOL founder Steve Case, U.S. Venture Partners and Lightspeed Venture Partners. Lightspeed topped up Amazon's investment on Thursday with an additional $8 million of its own.