Gowalla tries to beat Foursquare by joining it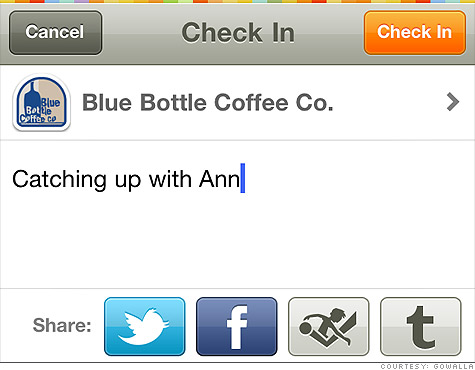 NEW YORK (CNNMoney.com) -- The newest update to location-based networking service Gowalla adds a surprising feature: automatic check-ins on Foursquare, Gowalla's much-larger archrival.
The two startups are battling it out in one of the tech field's most closely watched spaces. Through GPS-enabled smartphones and other devices, location services let users broadcast their whereabouts and favorite hangout spots to chosen groups of friends -- or, for the uninhibited, the world at large.
They currently draw a small audience: 4% of online adults use "geosocial" sites like Foursquare, according to a Pew Research Center study released this month.
But like Facebook and Twitter, which started off with niche userships before crossing over into the mainstream, the services are growing extremely fast. Foursquare has nearly 5 million members; Gowalla trails it with 600,000.

Gowalla 3, rolling out Thursday, introduces a "universal activity feed" that shows your friends' check-ins on Gowalla as well as Facebook Places, Foursquare and Tumblr. Users can choose to send their own Gowalla check-ins out to those other sites as well.
The aim was to "create a solution that allows people to connect with all these services without having to launch four different apps," says Josh Williams, Gowalla's CEO. "We're still early enough in the space that everyone has a different flavor and take on it. Different people are going to migrate to different services."
Anil Dash, a prominent blogger and social media maven, sees Gowalla's Foursquare embrace as way to piggyback on its rival's platform.
"It's not too different from what Microsoft did when they were behind in the browser market or the spreadsheet market," Dash says. "If it succeeds, then Gowalla commoditizes the act of checking in, and can build a platform on top of that."
Sam Altman -- founder of Loopt, one of the earliest players in the geosocial field -- says the biggest boon for Gowalla will be the ability to pull in check-ins from Foursquare.
"If not very many of my friends use Gowalla but I like the app, now I can use it and see where my friends are if they use Facebook and Foursquare," he says. Loopt is a fan of integration: When Facebook Places rolled out earlier this year, it linked up with the new service.
Robert Scoble, an employee at RackSpace (RAX) who tracks startups, sees the move as Gowalla's bid to stand out in an increasingly crowded app scrum.
"It's an admission 'we're not going to be the place to get deals, but we'll be the coolest client for doing this,'" he says.