The BlackBerry is dead! Or is it?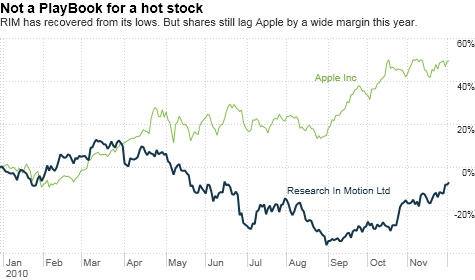 NEW YORK (CNNMoney.com) -- Is BlackBerry maker Research in Motion on the verge of becoming obsolete, or is it the next big thing in tech? Investors can't seem to make up their minds.
Shares of RIM (RIMM) are down 9% this year. The stock took a nasty tumble over the summer on concerns that sales growth may slow in the wake of competition from Apple 's (AAPL, Fortune 500) iPhone and iPad as well as an army of Google (GOOG, Fortune 500)-enabled Android phones and tablets from the likes of Motorola (MOT, Fortune 500), Samsung and others.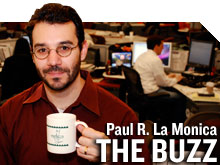 Some investors wondered if RIM was destined for the same fate as Palm. That company once ruled the mobile world, but its Pre and Pixi smartphones didn't capture the public's fancy. Palm wound up selling out to Hewlett-Packard (HPQ, Fortune 500) earlier this year for $1.2 billion, a fraction of what the company was once worth.
But RIM has surged nearly 45% since hitting a 52-week low in August. During that timeframe, the stock has outperformed mighty Apple.
Much of the newfound RIM excitement is centered on the company's PlayBook tablet. RIM officially unveiled it in September and the device is slated to go on sale in early 2011.
So what now? Peter Misek, an analyst at Jefferies & Co. in New York, thinks that investors' fears about RIM becoming Palm 2.0 were unfounded. The company is not getting enough credit for its new BlackBerry Torch phone, he thinks.
Many tech bloggers panned the phone for not being enough like the iPhone or some of the popular Android phones, such as Motorola's Droid. But Misek said investors are overlooking how strong sales actually are. He thinks RIM has a bright year ahead in 2011.
RIM acquired QNX Software Systems, an open-source software developer, from speaker company Harman International (HAR) earlier this year. QNX's operating system has won more raves than RIM's proprietary BlackBerry OS -- particularly because it makes it easier for outside developers to create applications.
And as we all know, apps are all the rage in the tech world. Misek said QNX will pay off first with the PlayBook, but that it's also likely to be the backbone of new BlackBerry models later next year.
"If RIM's sales momentum isn't peaking this quarter or next, and if they have an ability to innovate at the high end of the smartphone market, this is a very cheap stock," he said.
But not everyone agrees. Jeffrey Fidacaro, an analyst with Susquehanna Financial Group in New York, advises caution.
He thinks investors have overly aggressive assumptions about how well the PlayBook will sell and how profitable it will be for RIM. He also worries that RIM could be too late to the tablet game. In addition to Apple, there's Samsung, which is making waves with its Galaxy device.
"There are going to be 80 or so tablets launched in 2011 and 50 tablets at CES in January," Fidacaro said, referring to the big annual tech trade show in Las Vegas. "RIM will be stretched to differentiate the PlayBook."
As for QNX and new smartphones, some think it's too soon to predict whether or not RIM will be able to finally cash in on the apps craze. Michael Walkley, an analyst with Cannacord Genuity in Minneapolis, said he's wary.
"QNX is potentially a big catalyst for RIM. But the company has a hole in its portfolio for high-end smartphones," he said. "The first half of next year will be challenging. There should be more market-share losses, until there is better evidence of what QNX-enabled phones will look like."
Fidacaro thinks a certain amount of takeover hype is built into the stock now. Microsoft (MSFT, Fortune 500) and Cisco Systems (CSCO, Fortune 500) have been mentioned often as potential acquirers -- though Microsoft's recent Windows Phone 7 operating system makes it a less likely RIM suitor.
And Cisco, whose stock price has plunged 20% this year, may be reluctant to make a big splashy deal that could only further alienate investors. RIM has a market value of about $33 billion and would likely command a premium in a takeover situation.
On the flip side: Misek thinks that the takeover speculation argument is bunk. He noted that RIM is trading at less than 10 times its fiscal 2012 earnings estimates. That's hardly a nosebleed valuation.
So is RIM the next Palm or the next Apple?
Probably neither. That's why one fund manager with a heavy emphasis on tech said he's avoiding it -- and Apple, for that matter.
"RIM has done well in the past but it's not the type of company we prefer," said Rick Moulton, a portfolio manager at Riverbridge Asset Management in Minneapolis. His firm owns Google, Microsoft and Cisco.
"It's a rapid product cycle company. Apple is no different. Success is predicated on always staying a step ahead of everyone else," Moulton added. "RIM has been able to do that in the past, but can it keep doing so? It has struggled lately."
Bust out the Doc Martens! I've written about Europe and the PIIGS frequently for this column and keep tabs on Europe over on my Twitter account as well. I pointed out earlier Thursday about how fears of problems in Belgium are also cropping up. (Is BIG SIP a potential new moniker?)
The reference to Belgium made me think of a line from one my favorite movies of the '90s. So I challenged my Twitter followers to another dose of my silly name that movie quote quizzes. "Uh, a big record just broke in Belgium."
The answer is "Singles" -- Cameron Crowe's love letter to Seattle's grunge era. I even listened to the soundtrack while writing today's column.
Anyway, congrats to @Nils1975 and @agwarner for getting this right. Hope you enjoy your shout-out. In the immortal words of Pearl Jam's Eddie Vedder in "State of Love and Trust" (the best song on the Singles album in my humble opinion) "Hey, na na na na, hey that's something."

- The opinions expressed in this commentary are solely those of Paul R. La Monica. Other than Time Warner, the parent of CNNMoney.com, and Abbott Laboratories, La Monica does not own positions in any individual stocks.