Gold rush resumes with another record high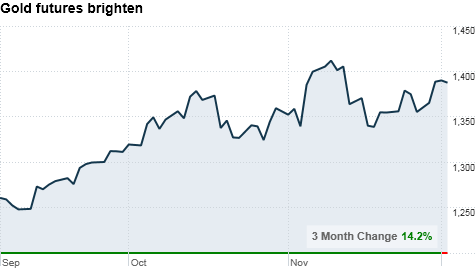 NEW YORK (CNNMoney.com) -- Gold prices jumped back above $1,400 an ounce Friday to settle at a fresh record-high as the U.S. dollar slid following a surprisingly weak report on the nation's job market.
February gold futures rose $16.90, or 1.2%, to settle at a nominal all-time high of $1,406.20 an ounce. Gold was last at such lofty levels early last month, when it hit a series of record highs in non-inflation adjusted terms.
The advance came after the Labor Department's monthly report showed that employers added 39,000 jobs in November. The tally was far below market expectations and followed a much stronger gain of 172,000 jobs in October. The unemployment rate unexpectedly rose to 9.8% from 9.6%.
The disappointing jobs data tempered hopes that the U.S. economy was gaining momentum, and put pressure on the nation's currency. The dollar was down over 1% versus both the euro and the yen. It fell 0.9% against the U.K. pound.
"The numbers this morning were a bit of a surprise," said Tom Pawlicki, commodities analyst at MF Global. "It's not consistent with other economic data we've seen lately, and suggests that we're continuing a rocky recovery."
Pawlicki said the report could lead Congress to expand policies aimed at stimulating the economy, such as extending unemployment benefits and renewing tax breaks. That could help support gold prices because investors are nervous about the sustainability of government spending, he added.
Adam Klopfenstein, senior market strategist at commodities brokerage firm Lind-Waldock, said gold is getting a boost from growing demand from retail investors in China.
But he said the metal is also benefiting from "common factors" such as the weak dollar and safe-haven demand. "I think people are uncomfortable in solid currencies going into the weekend and want to own a tangible asset," he said.
Gold and other commodities that are priced in dollars tend to gain value when the U.S. currency declines. It is also considered a "hard asset" that tends to hold value better than stocks and bonds.
Looking ahead, analysts expect prices for gold and other precious metals to continue rising into next year as the economic outlook remains cloudy and policymakers around the world look for ways to stimulate activity.
According to analysts at Deutsche Bank, gold is headed back above its November highs and could reach $1,445 an ounce in the near term.
"We believe the high level of macro-economic uncertainty in a low interest rate environment will continue to work in favor of new price highs across the complex," Deutsche bank said in a research report.