Borders shareholder guns for Barnes & Noble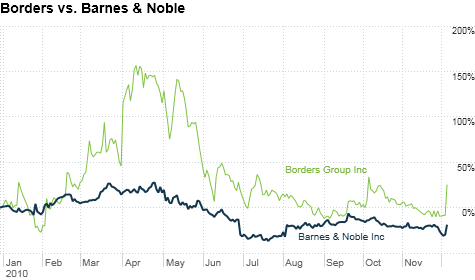 NEW YORK (CNNMoney.com) -- The largest shareholder of bookstore chain Borders, investor William Ackman of Pershing Square Capital Management, is willing to shell out $900 million to takeover rival Barnes & Noble Inc., according to a regulatory filing.
Ackman said Pershing Square Capital Management, which holds a 15% stake in Borders, is prepared to bid $16 per share in an all-cash or stock-and-cash transaction, representing a 20% premium on Barnes & Noble's closing price of $13.28 last Friday.
Shares of Barnes & Noble (BKS, Fortune 500) rallied 17% to $15.50 in afternoon trading, while Borders Group's (BGP) stock surged more than 40% to $1.52 per share.
Barnes & Noble put itself up for sale in August, saying its shares were "significantly undervalued." The company's stock value has plunged more than 30% this year.
At the time, the bookseller's founder and largest shareholder Leonard Riggio said he might join an investor group to buy Barnes & Noble.