Nissan's Juke: The new car for the underemployed college grad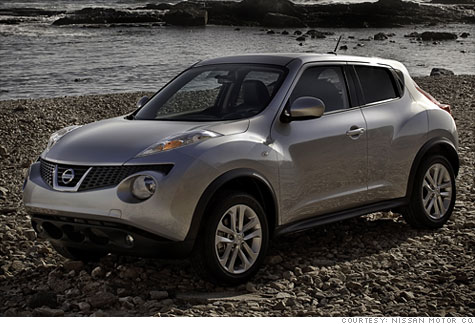 FORTUNE -- The Juke, a new and oddly-named crossover from Nissan (NSANY), exemplifies the growing variety of body styles and increasing number of creature comforts found in smaller, less-costly vehicles meant to attract young buyers.
As automakers expand their offerings to include young consumers who favor smaller models because of affordability, they also are contending with an economic recession that's been especially tough on the enty-level demographic group.
Yingzi Su, a senior economist for General Motors (GM), said U.S. unemployment for men and women in their 20s stood at 14 percent, compared with the overall rate of 9.6 percent. But even for those fortunate enough to be drawing salaries, credit is tighter and downpayment requirements are stiffer.
"The credit crunch and unemployment have had a big impact on small vehicles,'' said George Pipas, a sales analyst for Ford Motor (F, Fortune 500). "There is a silver lining. As employment improves there will be more demand in this category because it has been among the most hurt."
Japanese automakers, constrained by the high price of gasoline in Japan and regulations against large vehicles, have more experience creating pleasing, commodious small models, humbling historic top-sellers from Detroit like the Dodge Neon, Chevy Cavalier and Ford Escort.
Ford's new Focus compact sedan, first shown in the U.S. last January to strong initial reviews, should begin arriving at dealerships in the first quarter. Chevrolet Cruze is GM's promising new small sedan, though its more sedate styling could make it more attractive to an older audience than the Juke.
In terms of size and price category, Juke is a step down from models like Toyota RAV4, Honda CRV and Chevrolet Equinox, more on a par with Ford's subcompact Fiesta. (GM says Equinox is among its top five models favored by buyers in their 20s.)
If small cars like Volkswagen Beetle and Mini Cooper seem designed for a more feminine sensibility, Nissan's Juke is the opposite, with wheels pushed out to the corners, tautly bulging sheetmetal curves and a wide stance. Nissan says its "target customer" would be readers of Maxim magazine, avid NFL fans and video gamers. In other words, Nissan's ideal juke buyer is a young guy who in this economy may be relying on unemployment insurance, or Mom and Dad, yet still needs a car to get around, and more importantly, to get to job interviews.
Juke's layout and mechanical underpinnings are derived from a collaboration of Nissan and its alliance partner, the French automaker Renault. The base model, with front-wheel-drive and continuously variable transmission, starts at just under $19,000 and can run as much as $25,000. All of the variants are powered by a 1.6-liter Turbo that generates 188 horsepower and 177 foot-pounds of torque. City/highway fuel economy is rated at 27/32 miles per gallon.
"Fuel efficiency is still a top-of-mind issue in this part of the market,'' said Pipas.
I drove a $22,500 Juke SL for a few days, equipped with six-speed manual transmission, heated leather seats, Navigation, XM Radio, Bluetooth and a power moonroof. The car was comfortable and drove pleasantly while sipping fuel economically: All in all, a far cry from the cheap-and-cheerful econoboxes of yore.
Nissan currently is offering a $269 a month deal on a 39-month lease, $2,500 down -- not dirt cheap but well within reach of someone earning about $40,000, whether the income source is first job or a rich uncle.
As for the model's name, Nissan says in its sales literature that it describes the vehicle's "ability to dodge obstacles, including 'ordinary.'" Seems like the Juke then, is quite a juke.