Mets owner sued by Madoff trustee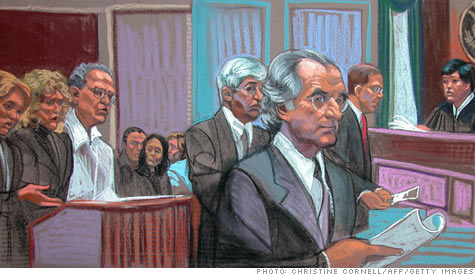 NEW YORK (CNNMoney.com) -- The trustee in charge of recovering and distributing Bernie Madoff's assets sued the owner of the New York Mets baseball club Tuesday.
The complaint against Sterling Equities, a real estate developer, was filed in U.S. bankruptcy court in New York. Since the parties are currently in negotiations the complaint is sealed.
"We are currently engaged in good-faith negotiations with the Sterling Defendants," said Irving Picard, the trustee, in a statement issued by a law firm working on his behalf.
Sterling Equities did not comment on the specifics of the complaint because it is under seal, but did assure Mets fans the team will remain on firm financial footing.
"Regardless of the outcome of these discussions, we want to emphasize that the New York Mets will have all the necessary financial and operational resources to fully compete and win. That is our commitment to our fans and to New York," Sterling Equities said in a statement.
Picard has filed a slew of lawsuits in U.S. Bankruptcy Court in Manhattan in recent weeks -- against some of Madoff's victims.
He accuses hundreds of defendants of profiting off the biggest Ponzi scheme in history by withdrawing more money from Madoff's fund than they invested, money they presumably thought was investment income.
On Tuesday, government lawyers announced they had settled one such case against Carl Shapiro, who agreed to forfeit $625 million that will be made available to Madoff's victims.
"For almost 40 years, Carl Shapiro invested hundreds of millions of dollars with Bernie Madoff but withdrew far more. By requiring him to forfeit this money -- more than he is currently worth -- the Government and the SIPA Trustee have sent an important message," Manhattan U.S. Attorney Preet Bharara said in a statement.
Simultaneously, government lawyers announced that Picard has been appointed a "special master" in the Madoff case, and will now "assist in identifying eligible victims, verifying their losses, and distributing the forfeited funds in accordance with Department of Justice regulations."
Picard has already filed suit against financial firms UBS (UBS), JPMorgan (JPM, Fortune 500) and HSBC (HBC) for allegedly aiding Madoff. He is also suing Madoff's family and employees.
Madoff, 72, was arrested on Dec. 11, 2008. In March the following year, he pleaded guilty to orchestrating the most massive, long-running Ponzi scheme in history and was sentenced to 150 years in federal prison. He is incarcerated at a medium security facility in Butner, N.C.