Apple's communication gap irks business buyers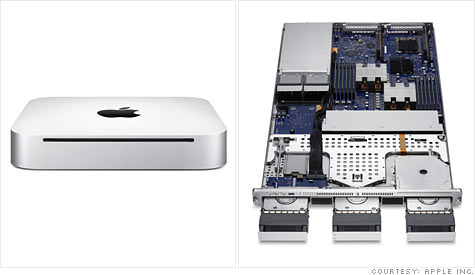 NEW YORK (CNNMoney.com) -- When you think about Apple, you think about stylish consumer gadgets like iPads, iPhones, iPods and Macs -- but you don't necessarily think of a business IT company.
Apparently, Apple doesn't either.
Apple (AAPL, Fortune 500) decided last month to kill its Xserve line of rack servers, one of its rare pure-enterprise products. What's more, Apple gave its business customers just four months to adapt, notifying them through a "transition guide" that it would no longer sell Xserves after Jan. 31, 2011.
Without getting too wonky about the finer points of "blade servers," the Xserve is essentially a high-powered Macintosh computer with additional features to help it network with other computers or host websites.
Unlike a normal Mac, the Xserve has redundant power supplies, it can be remotely monitored, and it screws into a mounted rack. Those space-saving racks help business customers maintain clusters of networked machines -- and they also protect the servers they contain against damage. That's an important consideration in the earthquake-prone Bay Area, where a number of Xserve customers are located.
That's why Apple's solution was so head-scratching: It suggested Xserve customers instead go buy Mac Pros or Mac Minis. Both can run Mac OS X Server, and Apple noted that the Mac Pro's processor is faster than the Xserve's.
That's true -- but those aren't rack servers. Hold a Mac Mini and an Xserve side-by-side and the comparison is laughable.
Xserve customers' reaction was, unsurprisingly, a mix of confusion and frustration.
"It's making many, many people upset," said Paul Chernoff, IT director at Washingtonian.com, which runs two Xserves to support a website and 72 Macs. "I don't think Apple handled this very well in terms of understanding the needs of enterprise customers."
Four months is insufficient notice for businesses that will now need to completely rethink their server infrastructure, he said. Plus, the timing is unfortunate. Apple made the announcement close to the end of the year, right when IT departments are scrambling to finalize their budgets for the next year.
Apple representatives declined to comment on the company's Xserve cancellation, and the response business buyers had to the move.
IT gurus say that the way Apple went about killing off the Xserve is a symptom of a broader problem: Apple has a communication gap with its enterprise customers.
"Apple doesn't understand that talking to businesses about IT-related things is not the same as doing it with consumers," said John Welch, IT director at the Zimmerman Agency, a digital marketing and PR firm. "With consumers, when they don't hear anything and all the sudden -- ta da! -- they get a new iPhone, that's great. For us IT guys, that's a nightmare. We hate that."
Most enterprise customers weren't surprised by the Xserve announcement. Their comments ran along the lines of "that's what you get for dealing with Apple."
"We have to take a detour, and that's disruptive," said one IT manager in the entertainment industry, who asked not to be identified because his company remains an Apple client. "But that's Apple's whole business philosophy: In the end, it's always beneficial to the end-users but not always beneficial to the enterprise."
To be fair to Apple, enterprise customers weren't exactly busting down the door to buy Xserves. Apple's server market share is less than 4%, according to IDC.
Steve Jobs said as much in response to an irate Xserve customer: "Hardly anyone was buying them," he wrote in a widely quoted e-mail. (Apple's PR representatives declined to confirm or deny that the e-mail was actually from Jobs, who frequently responds to e-mails from customers.) Multiple analysts said they think Apple was losing money on the server.
Still, it all raises the question: Does Apple really want to be in the enterprise market? And if so, is it even capable of competing there?
Entrenched business vendors like IBM (IBM, Fortune 500), Dell (DELL, Fortune 500), Oracle (ORCL, Fortune 500) and Hewlett-Packard (HPQ, Fortune 500) give customers two- to five-year roadmaps for their server lines and other mission-critical enterprise hardware products. Unlike its competitors, Apple rarely details its product plans and offers very limited corporate customer service support.
Businesses don't actually need to use Apple servers to support Macs. Microsoft (MSFT, Fortune 500) Windows Server and Linux Server are perfectly capable of handling much of the load that the Xserve carries.
So here's the big surprise: Many Xserve customers say they're sticking with the Macintosh platform for both desktop and servers.
A survey of 1,200 Xserve customers conducted by the Enterprise Desktop Alliance found that 70% of Xserve customers say Apple's announcement will have no impact on their organization's decision to buy new Macs.
Xserve customers are a funny bunch. Unlike most servers, which are purpose-oriented (Server No. 1 is a file server, Server No. 2 is a Web server, and so on), the Xserves loose in the wild are largely being used to multitask and handle a range of functions simultaneously, the Enterprise Desktop Alliance found.
Most of those functions can be easily done by a Mac Mini or a Mac Pro. As a result, the majority of Xserve customers said they'll stick with Macs to replace most of what they were using their Xserves for.
The only exceptions were for things that Macs simply aren't equipped to do on an enterprise scale, like operating a Web or file server. Respondents typically said they'll switch to Linux for Web serving and Windows Server for files.
"The survey shows that Apple did not alienate more than a couple percentage points of customers, and this was taken at a time when the emotional reaction was most likely to inflate that number," said Reid Lewis, president of Group Logic, an enterprise software maker that belongs to the Enterprise Desktop Alliance. "That's good news for Apple."
So, even when they're frustrated, Apple's enterprise clients still trust the company enough to keep relying on it. Apple may always be a niche player in the business market, but it's got an advantage rivals like Microsoft and HP can only dream about: In the eyes of many customers, Apple can do no wrong -- even when it does something wrong.