Treasury yields continue 'upward lurch'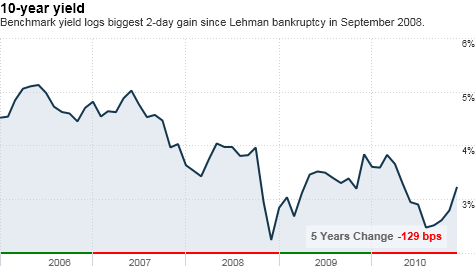 NEW YORK (CNNMoney.com) -- Treasury prices continued to slide Wednesday, pushing the yield on the benchmark 10-year note to its highest level in six months.
"The tax plan is boosting expectations about economic growth, so the market is reacting to the fact that we are having a pro-growth tax policy layered on the economy at a time when economic data has already been better than in the past," said Jonathan Lewis, principal of Samson Capital Advisors.
"With no economic data to speak of today, it really just appears to be a follow through from yesterday's selling pressure," he added.
The 10-year yield jumped to 3.25% from 3.13% Tuesday, after climbing as high as 3.33% earlier in the session. That was up 36 basis points from Monday, the biggest two-day gain since September 2008, when yields seesawed following the bankruptcy of Lehman Brothers Holdings Inc.
Meanwhile, the 30-year yield rose to 4.43% from 4.37%. The yield on the 2-year note increased to 0.62% from 0.54%, and the 5-year note rose to 1.86% from 1.73%. Bond prices and yields move in opposite directions.
On Tuesday, yields spiked following President Obama's announcement of a compromise with Republican leaders to extend Bush-era tax cuts for two years and unemployment benefits for 13 months. The deal would also lower the payroll tax by two percentage points for a year.
While the possibility of an extension of the tax cuts had been on the table for months, it took the headline of a concrete deal to push stocks -- and yields -- sharply higher.
"The market's immediate reaction was that keeping tax rates low longer is stimulative," said Lewis. "It wasn't a foregone conclusion that this was going to happen, so seeing that it's finally a done deal is important."
How high can they go? While Jim Vogel, head of debt research at FTN Financial, said the "sudden lurch upward" in yields this week is a knee-jerk reaction to the tax plan and is likely to simmer down, Lewis thinks yields have a good chance of moving higher in the long term.
This spring, the 10-year yield sank to 2.38% from 4% as traders became skeptical of the pace of the recovery and as stocks slipped from their highs.
But as economic data has improved, stocks have recovered and Treasury yields have climbed higher. And if economic data remains steady, Lewis said the 10-year yield could keep moving toward 4%.
"If we were there before, why can't we be there again?" he said. "We can be if there's steadier economic data, better news from overseas and less risk aversion."