Banks boost stocks, but gains are modest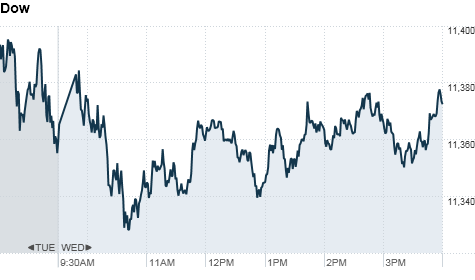 NEW YORK (CNNMoney.com) -- Stocks drifted higher Wednesday as a rebound in bank shares offset weakness in commodities and concerns about rising interest rates in the Treasury market.
The Dow Jones industrial average (INDU) rose 13 points, or 0.1%, to close at 11,372. The S&P 500 (SPX) added 4 points, or 0.4%, to 1,228. The tech-heavy Nasdaq (COMP) rose 11 points, or 0.4%, to 2,609.
Bank of America (BAC, Fortune 500) and JPMorgan (JPM, Fortune 500) led gainers in the Dow, while McDonald's (MCD, Fortune 500) and Boeing (BA, Fortune 500) dragged on the blue-chip index. Technology shares Intel (INTC, Fortune 500) and IBM (IBM, Fortune 500) were also strong.
Shares of Chevron (CVX, Fortune 500) and Alcoa (AA, Fortune 500) were under pressure as prices for oil and precious metals fell. The weakness in commodities came as the dollar firmed against the euro, making assets priced in the U.S. currency less attractive to some investors.
"The dollar is one of the most important catalysts here," said Quincy Krosby, market strategist with Prudential Financial. "The market is being hit with a number of different factors, and we're mostly focused on how they affect the dollar."
Investors were also digesting the deal struck Monday between President Obama and Republican lawmakers to extend tax cuts for those making more than $250,000 a year.
Obama touted the compromise, which would also extend unemployment benefits and create a payroll tax holiday for workers, as a boon for middle-class Americans. But at a news conference Tuesday, the president said he would push to have the tax cuts eliminated for high earners after the two-year extension is over.
Art Hogan, chief market analyst at Jefferies & Co., said the deal is a positive for the economy and the financial markets. But he added that investors are awaiting final details of the plan, which is expected to face some resistance from Democrats.
"This is something that will have longer-term benefits, and will gradually work its way into the marketplace," he said.
Meanwhile, investors were also grappling with an ongoing sell-off in the Treasury market, which has pushed the benchmark 10-year yield near a 6-month high.
Some market participants see the selling as a sign that investors are more bullish about the economic outlook, and are gravitating toward riskier assets. Others argue that rising yields will make it harder for the U.S. government to borrow money, fuel inflation and hurt the economic recovery.
"The market still needs to sort that out," said Krosby.
Stocks ended mixed Tuesday after optimism over the deal on tax cuts faded and Treasury yields spiked.
Companies: Shares of AIG (AIG, Fortune 500) were halted after the insurance giant said it had signed an agreement with the Federal Reserve and other creditors to repay loans it received during the financial crisis.
The deal, which involves swapping loans for common shares, would result in the Treasury owning 92% of the company. That has raised speculation that the Treasury could sell a large block of AIG shares sometime next year.
AIG said in a statement that the agreement "marks an important step forward in our progress toward completely repaying taxpayers."
Shares of two Chinese technology companies, Youku.com and Dangdang.com, were sharply higher after both companies made their debut in the U.S. market.
Youku.com (YOKU), an Internet video provider similar to Youtube.com, jumped 167% to $27.89. The Beijing-based company priced its offering of more than 15 million U.S.-listed shares at $12.80 each.
Shares of Dangdang.com (DANG) surged 86% to $28.10, after the consumer e-commerce company priced its IPO at $16 per U.S. depository share.
Costco (COST, Fortune 500) reported an increase in both sales and profit for its fiscal first quarter, which beat estimates. Net income rose 17% to $312 million, compared to $266 million in the year prior. Earnings per share increased 18% to 71 cents per share.
Fortune Brands (FO, Fortune 500), maker of Jim Beam whiskey, Titleist golf clubs and home security systems, said it will split into three separate businesses -- retaining its liquor operations, spinning off its home products and security unit and selling its golf properties.
World markets: European stocks ended the day mixed. Britain's FTSE 100 dipped 0.2% and the DAX in Germany fell 0.4%, while France's CAC 40 added 0.6%.
Asian markets also closed mixed. The Shanghai Composite lost almost 1% and the Hang Seng in Hong Kong dropped 1.4%, while Japan's Nikkei gained 0.9%.
Currencies and commodities: The dollar gained 0.2% against the euro and 0.6% the Japanese yen, but it lost 0.1% against the British pound.
Oil for January delivery fell 41 cents to settle at $88.28 a barrel.
Gold futures for February delivery fell $25.80 to end at $1,383.20 an ounce.
Bonds: The price on the benchmark 10-year U.S. Treasury fell, pushing the yield up to 3.24% from 3.13% late Tuesday. The yield was the highest since late June.
The U.S. sold $21 billion worth of re-opened 10 year notes Wednesday, after auctioning $32 billion in 3-year notes Tuesday. An offering of $13 billion in re-opened 30-year bonds is scheduled for Thursday.