Mexican oil may not be worth it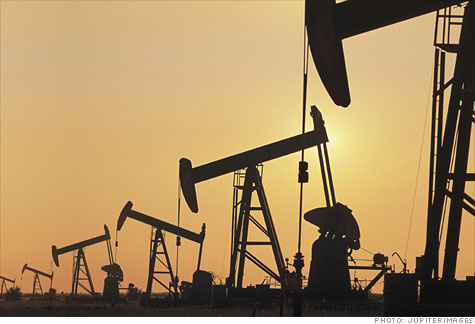 FORTUNE -- Mexico appears set to allow foreign oil companies to operate on its soil for the first time in 72 years following a Mexican court ruling earlier this week. But while the news is being hailed as a major coup for the large multi-national energy companies, including ExxonMobil (XOM, Fortune 500), Chevron (CVX, Fortune 500), BP (BP), Repsol, (REP) Eni (E) and Shell (RDSA), it remains to be seen if drilling south of the border would be in their best interest.
In Mexico, state ownership of the oil industry is considered to be sacrosanct. Every year, the country celebrates the day in 1938 when its government kicked foreign oil companies out of the country and nationalized the industry. Since then, oil has provided Mexico with vital cash needed to fund its social programs. In fact, over a third of the government budget comes from the state owned oil company, Petróleos Mexicanos, or Pemex.
For years this scheme worked well. Pemex would hand over 60% of its revenue to the state, leaving it just enough cash to reinvest in the business and grow production. But as it became more expensive over the years to exploit the nation's oil reserves, Pemex's profit margins shrank, eventually leaving the company with little or no money to reinvest in the business.
The results were disastrous. Mexico went from producing 3.4 million barrels of oil a day in 2004 to producing just 2.6 million barrels a day in 2010. According to the Department of Energy, Mexico is the seventh-largest oil producer in the world.
Failed efforts
While foreign oil companies were forbidden to own Mexican oil assets, they were always ostensibly allowed to assist the state in exploiting its reserves as a subcontractor for a flat fee. For example, oil service companies like Schlumberger (SLB) and Halliburton (HAL, Fortune 500) have been in the country for years helping Pemex suck out its oil, but the major exploration and production companies largely stayed away as they weren't allowed to absorb any of the upside from rising oil prices.
This subcontracting model didn't seem to get Pemex very far in growing its reserves. That's because oil service firms acted as agents rather than principals in the oil extraction. They weren't incentivized to take risks and push Pemex in the right direction, as international oil companies might have done.
Thanks to a Mexican supreme court ruling on Tuesday, Pemex now has the ability to offer the foreign oil companies more of an incentive to come down to Mexico. While the state will continue to own the oil, the government is allowing Pemex to pay foreign oil companies a fee on each barrel of oil they extract. That differs from the old system where they would be paid a flat fee for completing the project. In return, the oil companies would agree to share in the risk by absorbing 25% of the exploration and development costs.
Pemex plans to first open three mature onshore oil fields in the south of the country to foreign companies. They expect to have workers on the field by the third quarter of 2011 and in production by 2012. These fields will probably not appeal to the large international oil companies as they are too small to move the needle. But they would appeal to smaller oil companies that specialize in squeezing the life out of old fields.
What could be of interest to the large oil companies are the offshore drilling opportunities in the Gulf of Mexico. Pemex will move to open these fields to foreigners by 2012. The company says it has identified some new fields underwater that could hold a billion barrels of crude or more.
Big Oil's demands
But is this new regime enough to lure the major oil companies to come down to Mexico? While it does make it more amenable to them, it is certainly not ideal. After all, they still won't own the oil. That means that they won't be able to book the oil to their reserve base -- a major drawback since oil companies are judged by the public markets in large part by their ability to replace their reserves. Not owning the oil also means that they won't be able to control where it goes. This is important for logistics and trading purposes, which is a major profit center for some oil companies, especially BP.
To be sure, the oil companies won't pass up an opportunity with a high return on their invested capital. But how profitable the venture could be remains to be seen. The price per barrel fee that the company would receive would be determined by a reverse auction. Pemex would set a ceiling and the lowest bidder with the most favorable terms wins.
"I think it would be wrong to disregard the potential viability of this contract," says George Baker, the publisher of Mexico Energy Intelligence, an industry newsletter. "I think we have to be in a wait and see mode and depends a lot on that ceiling price."
If Pemex sets that ceiling price too low, nobody would agree to drill and the country would continue to see its production dry up. If it sets it too high, Pemex would be accused by its opponents in the government of giving away Mexico's oil, threatening to scuttle the entire deal.
So far, the major oil companies have been mum on the developments in Mexico. In a benign statement, ExxonMobil had this to say: "ExxonMobil supports Mexico's efforts to address its trend of declining oil production through energy reform. Effective reforms could help Mexico continue to provide affordable and reliable energy to its businesses and its citizens, enabling the Mexican people to maintain and improve their quality of life."
It has taken years for Mexico to admit that it has a problem with its oil production and even longer to pass legislation to revamp the system. It is now up to Pemex to decide how it wants to proceed. But whatever it decides, it needs to act fast. If Mexico is unsuccessful in boosting its sagging production, it is slated to become a net importer of oil within five years.