Hate ATM fees? Try these fee-friendly banks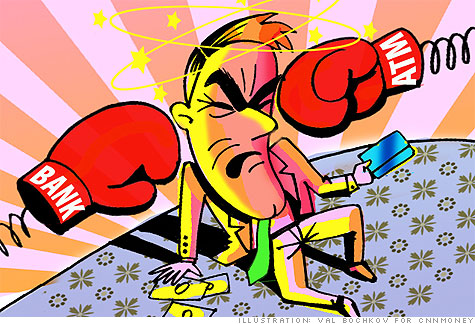 NEW YORK (CNNMoney) -- If you're not careful about the ATMs you choose, those nasty little fees add up quickly.
While going to your own bank and taking out cash is free, using an ATM at a competing bank will typically cost you around $5 a pop. That's because you're taking a double-fisted hit: Your own bank likely charges you about $3 for using another bank's ATM, and the ATM you're using charges you a separate fee of around $2.
"That's a steep price to pay to get your own money," said Greg McBride, a senior financial analyst at Bankrate.com. "While paying that four or five bucks every once in a while isn't going to put you in the poor house, routinely paying it could."
In fact, if you frequent an out-of-network ATM once a week, you could end up paying more than $200 in ATM fees a year.
If you're looking to avoid those fees, Ally, Charles Schwab (SCHW, Fortune 500) and USAA not only let all of their customers use out of network ATMs free of charge, but they also refund the fees that their customers are charged by other banks. State Farm Bank doesn't charge you for going out of network and reimburses fees of up to $10 charged by other banks.
BBVA Compass gives most customers rebates of ATM fees charged by other banks if customers mail ATM receipts or account statements (showing the fees) to the bank within 90 days of the transaction.
Clear Sky Accounts waives ATM fees of up to $20 each month, while Bank of Internet USA refunds fees up to $8 for its checking accounts. Century Bank allows up to six non-Century ATM transactions per month.
EverBank allows customers unlimited use of out-of-network ATMs, but only if they maintain an average daily balance of $5,000. The same goes for PNC, but customers must carry a minimum balance of $2,000.
In addition, many credit unions have nationwide ATM networks, so they can also be good alternatives to the big banks. Alliant Credit Union, for example, gives members free access to a network of more than 80,000 ATMs. Customers can make eight free transactions a month and are charged $1 for every transaction beyond that.
"There are thousands of banks that don't charge for going out of network," said Nicole Sturgill, research director at TowerGroup. "Essentially any bank that doesn't have a lot of ATMs will not charge their customers when they use another bank's ATM. It's rather hard to justify charging out of network if you only have 10 ATMs."
Comparatively, Bank of America (BAC, Fortune 500), Citibank (C, Fortune 500) and JPMorgan Chase (JPM, Fortune 500) all charge non-customers $3 to use their ATMs and charge their own customers $2 for using other ATMs. Wells Fargo (WFC, Fortune 500) charges non-customers $3 and charges its own customers $2.50 for going out of network.
At Capital One, it costs customers $2 to use other ATMs and $2.75 for non-customers to use Capital One ATMs, but the bank refunds up to $10 of ATM fees for customers using its online checking accounts.
Non-customers are charged as little as $1.75 and as much as $3 to use HSBC (HBC) ATMs. But HSBC customers are charged the least for using other ATMs -- $1.50. And this is waived for customers with Premier and Plus accounts.
"People are too attached to the megabanks," said Ken Tumin, founder of Depositaccounts.com, which compares interest rates of nationwide and local banks. "They should give a look to smaller community banks, credit unions and Internet banks, which can save them money and be even more convenient."