Howard Stern: 5 more years with Sirius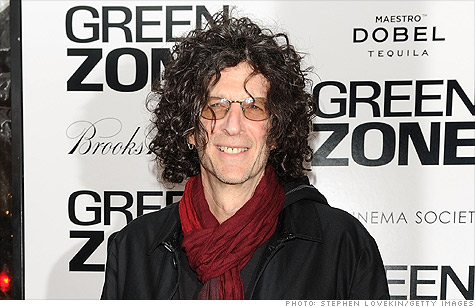 NEW YORK (CNNMoney.com) -- Howard Stern has signed another five-year contract with SiriusXM Radio, putting to rest speculation that he might leave and sending the stock on a double-digit surge.
The raunchy radio host made the announcement Thursday morning, but he was scant on details, such as pay.
The announcement quelled concerns that Stern might leave the satellite radio company. Sirius (SIRI) stock surged as much as 14% in pre-market trading, and recently backed off its peak for a 9% gain.
The raven-locked shock jock has been with the radio station since December 2005, when he signed a five-year contract for $500 million. At that time, paid-subscriber radio was viewed as an experiment.
For now, the experiment seems to be working. The stock is up about 120% so far this year, though its relatively low value of less than $2 per share can spur price volatility.
A rebound in the auto industry is a big part of the radio station's boon. The majority of its subscribers are tied to deals with automakers including General Motors (GM), Ford (F, Fortune 500), Honda (HMC) and Toyota (TMC), which pre-install Sirius radios.
The company expects to have more than 20 million subscribers by the end of the year, having added more than 300,000 in the third quarter.
"On my first day in satellite radio Sirius had approximately 600,000 subscribers," said Stern, in a press release. "Today, the two companies [Sirius and Howard Stern] have 20 million and, in my view, we have just scratched the surface of how many people will get on board."
The new contract, which begins Jan. 1, includes rights for SiriusXM to transit programming to mobile devices.
Martin Pyykkonen, an analyst with Wedge Partners in Denver, had estimated that as many as 2 million customers would have canceled their subscriptions if Stern left.