U.S. trade gap falls. Smaller surplus for China.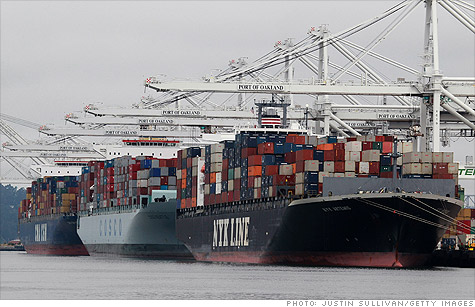 NEW YORK (CNNMoney.com) -- The trade deficit in the United States narrowed, according to the latest monthly data out Friday, though America's largest trading partner, China, still exports far more than it brings in.
The U.S. trade balance, which measures the difference between the nation's imports and exports, narrowed to $38.7 billion in October, down 13% from $44.6 billion in September, according to the Commerce Department. Economists were expecting a deficit of $44.5 billion.
The decline brought the U.S. trade deficit to a 9-month low, as exports jumped 3.2% to $158.7 billion, the highest since August 2008, and imports fell 0.5% to $197.4 billion.
The boosted demand for U.S. goods and services could boost overall economic growth in the fourth quarter "quite substantially," said chief U.S. economist Paul Dales of Capital Economics in a research note, though he expects that the trade gap will trend wider of the next year or two.
Meanwhile, China announced that its trade surplus fell to $22.9 billion in November -- a 16% decrease over October's $27.2 billion surplus, according to the state-controlled Xinhua news agency in China.
China's exports soared 34.9% in November, a $17.3 billion increase from the previous month, China's General Administration of Customs said Friday.
But the country's imports jumped 37.7% to $130.4 billion -- a sign that its government efforts to promote more domestic consumption may slowly be taking hold. Facing political pressure from the U.S. and other trade partners, China's government has said it is trying to narrow its trade surplus.
Exports and imports totaled $283.7 billion last month -- a new record high -- compared with $273.1 billion in September, the GAC said in a statement on its website.
China is the world's largest exporter, shipping out far more goods than it buys from other countries. That's a sore point for global competitors like the U.S., which is suffering from snail-speed growth, while China's economy is hurdling ahead at a staggering pace.
In yet another attempt to combat inflation, the People's Bank of China raised the reserve requirement ratio for its banks by a half-percentage point on Friday for the third time in the span of a month. China increased the requirements twice in November.
The reports come a week ahead of an important trade meeting between the two world superpowers: The U.S.-China Joint Commission on Commerce and Trade meets next week.
On Monday, 31 U.S. senators sent a letter to Wang Qishan, China's vice premier, urging him to solve several trade issues at the upcoming meeting.
The senators said they want to discuss intellectual property disputes, "discriminatory innovation practices" and barriers to U.S. beef exports, reaching solutions ahead of an important visit from Chinese President Hu Jintao in January.
While the committee doesn't have specific jurisdiction over currency issues, the senators also echoed other cries from U.S. lawmakers that China needs to allow its currency, the yuan, to float more freely against the dollar.
"We urge China to demonstrate its commitment to adopting a market-determined exchange rate by allowing its currency to appreciate meaningfully in advance of President Hu's visit," the letter said.
The United States has accused China of keeping its currency, the yuan, undervalued by buying up large reserves of foreign currencies. A cheaper yuan gives an advantage to Chinese exporters by allowing them to undercut foreign competitors.
In September, the House passed a bill that would allow for tariffs on Chinese goods. In their letter earlier this week, the 31 senators said they might follow suit.
China and other global leaders, have retorted, accusing the U.S. Federal Reserve of hypocrisy, saying its recent policy of quantitative easing artificially devalues the dollar.