The Magic 8-Ball market
NEW YORK (CNNMoney.com) -- It's been a long way back, but two of the most widely watched stock market barometers are now trading right around where they were before the financial excrement really hit the fan in September 2008.
The Dow closed Tuesday at 11,476.54, its highest close since September 8, 2008 -- a week before the bankruptcy of Lehman Brothers plunged the global credit markets into chaos.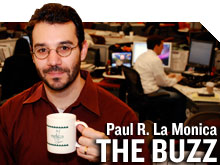 The S&P 500 finished Tuesday at 1,241.59. That's the highest it's been since September 12, 2008. The Nasdaq, with a heavy weighting of hot-performing tech stocks, already returned to pre-crisis levels a few months ago.
But now that the market has clawed its way back, what's next? Unfortunately, the answer I'm about to give is like one of those maddeningly non-committal Magic 8-Ball sayings: "Reply hazy, try again," "Cannot predict now" or "Ask again later."
Some think it may be difficult for stocks to move significantly higher until there is more tangible evidence that the economy -- the job market in particular -- is really improving.
Sure, the worst is probably over. GM (GM) has emerged from bankruptcy and is once again a public company. The government has finally sold off its entire stake in Citigroup (C, Fortune 500).
And insurer AIG (AIG, Fortune 500), which needed the biggest bailout of them all, is one of the hottest performing stocks in the S&P 500 this year thanks to asset sales and slowly improving fundamentals.
Still, the fact that the Great Recession didn't turn into Great Depression 2 (Electric Boogaloo?) is arguably priced into the markets at this point. Now investors want a return to the pre-crisis growth levels as well.
"The stock market has effectively patched over the financial crisis. But ultimately, the market is tethered to the economy," said Jack Ablin, chief investment officer with Harris Private Bank in Chicago.
Ablin said he is a bit worried that investors are too optimistic about earnings growth for 2011. He said companies need to actually experience healthier levels of sales -- as opposed to just lower expenses -- in order for profits to keep rising. And with a sluggish economy, that may not be feasible.
"Businesses have done a great job of wringing out excess costs but we need real top-line growth," he said.
Bill Stone, chief investment strategist with PNC Asset Management Group in Philadelphia, added that companies may have a more difficult time beating Wall Street's forecasts next year.
"It's impossible for earnings growth to maintain on the same path it has been on. Growth will slow in 2011," Stone said. "The easy comparisons are almost over and it will get tougher."
But others believe 2011 has the potential to be an even better year for stocks than 2010. Hank Smith, chief investment officer with Haverford Investments in Radnor, Pa., said that if there is a market bubble, it's a bubble in pessimism.
"The market is up but there is still a lot of fear, skepticism and anxiety out there," Smith said. "In no way do we think the market has gotten ahead of itself. Earnings growth has stayed ahead of stock price appreciation so we don't have a valuation problem either."
Smith said the tax cut compromise should lead to stronger economic and earnings growth than currently expected.
Phil Dow, director of equity strategy with RBC Wealth Management in Minneapolis, added that regardless of what happens with taxes, the earnings outlook still looks promising. He said investors should not focus exclusively on the economic stagnation in the United States when thinking about the markets.
"If you wait for the U.S. economic data to get better, you'll miss the move up," Dow said. "You can't ignore the fact that companies are selling more overseas. There is a greater global economic recovery going on that will benefit U.S. companies."
With that in mind, Dow said he will be paying very close attention to three U.S. multinationals reporting earnings on Thursday: FedEx (FDX, Fortune 500), Oracle (ORCL, Fortune 500) and General Mills (GIS, Fortune 500).
But even if the market does wind up in the plus column in 2011 -- just like it will this year barring a gruesome sell-off in the next few weeks -- it's unlikely to be a smooth run.
Dow said that some of the same fears plaguing the market this year, such as Europe debt woes and concerns about China overheating, haven't gone away.
"We should have an up market, but it will be volatile and it won't feel good. It certainly won't be straight up," he said.
Still, I'd lean toward Ablin's slightly more bearish than bullish view. (But hey, I'm a cynical journalist.) Although the economy may get a boost from lower tax rates -- if Congress ever decides to pass the bill -- that bump may be short-lived.
Investors may be embracing the likelihood of stronger economic growth in 2011. But they may eventually start to worry more about what happens to the economy and earnings growth in 2012 and beyond. That little thing called the deficit? It ain't getting any smaller.
"Like it or not, the economy is operating on life support from the government. There are some artificial props that we have to wean away from eventually," Ablin said.
In other words, stocks may have a decent year in 2011. But is it smooth sailing for stocks for the long haul? To quote our friend the Magic 8-Ball again, "My sources say no."
-- The opinions expressed in this commentary are solely those of Paul R. La Monica. Other than Time Warner, the parent of CNNMoney.com, and Abbott Laboratories, La Monica does not own positions in any individual stocks.