Sam Adams: Wall Street's favorite beer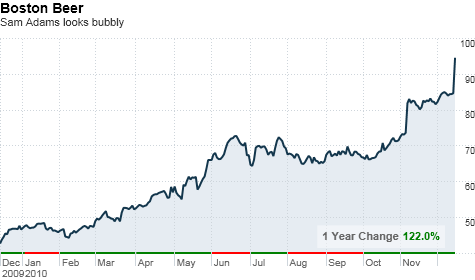 NEW YORK (CNNMoney.com) -- Investors went on a bender Wednesday, driving shares of the Boston Beer Company up 12%, after the brewer of Sam Adams raised its earnings forecast.
The stock rose $10.22 to close at $94.97 on the New York Stock Exchange. So far this year, shares of the Boston Beer company have more than doubled as investors bet demand for microbrews will rise along with the economic recovery.
By contrast, shares of big brewers have seen more modest gains. Anheuser-Busch InBev (BUD), the maker of Budweiser, and SABMiller (SBMRF), which brews Miller Genuine Draft, are both up about 10% year to date. Molson Coors (TAP) has gained nearly 12% in 2010.
Boston Beer (SAM), which makes 21 styles of beer, said late Tuesday that it now expects to earn between $3.30 and $3.60 per share for all of 2010. That's up from a previous estimate of between $2.85 and $3.15 per share. Analysts expect, on average, earnings of $3.20 per share, according to Thomson Financial.
The improved outlook reflects increased sales volumes, as well as changes in general and administrative expenses, the company said.
But some analysts say the rally is pure froth.
Deutsche Bank raised its earnings estimates for Boston Beer, but reaffirmed their Hold rating on the stock.
"We remain positive on the company's growth strategy and expect volume momentum to continue, despite a sluggish beer category." Deutsche said in a research note. "However most upside seems priced in."
Philip Gorham, analyst at Morningstar, expects sales of Sam Adams to continue rising next year. But he warned that Boston Beer is vulnerable to rising commodity prices and competition from larger rivals.
"Consumers' growing thirst for better-quality beer remains unquenched, and we expect volume growth to continue as unemployment falls and consumer confidence rebounds," Gorham wrote in a research report.
"However, SABMiller and Anheuser-Busch InBev, whose scale is many times that of Boston Beer, are the industry's cost leaders and can compete aggressively on price, if necessary," he added.
The market is overestimating the company's long-term growth potential and that the stock is "overvalued," he concluded.
An earlier version of this story incorrectly stated which beer is made by SABMiller. CNNMoney.com regrets the error.