Renting clothes gets sort of chic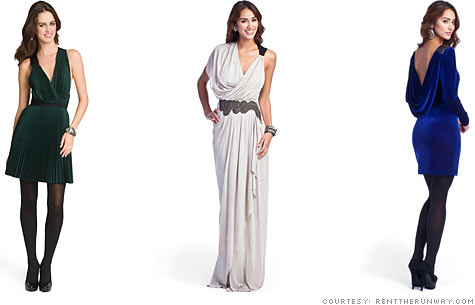 NEW YORK (CNNMoney.com) -- Men probably have been renting tuxedos since Black Tie events were first conceived but women only recently started catching on.
Similar to saving bucks on that pricey tux, renting party dresses and formal gowns can save partygoers hundreds of dollars on clothing that has very limited wearability.
One relatively new service, RentTheRunway.com, offers members thousands of dresses for a four- or eight-day stint. Geared toward special occasions or limited use wear for those on a budget, the rental prices are about 80% off retail.
For example, a Proenza Schouler accordion dress costs $1,665 to buy but rents for just $200. New styles are added regularly and retired looks are then sold for up to 65% off. (The company sells its older and overstocked items on a clearance section of its site.)
"The first dress I rented was last May for my friend's wedding. I think it was Nicole Miller, I loved it," said Susan Rose of New York City. "If I was going to buy something it would cost over $500, which is more than I should be spending." Instead, Rose says she has rented five different dresses over the course of the year, most for just $50.
Dresses are organized on the site by style, designer, or occasions like "winter wedding," "girls-night-out" or "this-is-getting-serious-date dresses."
Users pick the dress of their choice and then schedule a delivery date. Garments are delivered same day in New York City, and overnighted everywhere else in the U.S. To cut down on outfit anxiety, the company sends the dress in two sizes and takes care of the dry cleaning afterward. Renting a dress requires signing up for a free membership, and then paying for the rental, $5 insurance, shipping and any applicable taxes.
The site, which has 600,000 members, launched near the peak of the recession, but according to co-founder Jenny Fleiss, that timing helped it get off the ground. "People were really thinking about cost per wear," she said.
Now Rent The Runway is enjoying its busiest season to date. "Everyone has holiday parties and New Year's Eve coming up -- when are you going to wear a gold sparkly one-shoulder dress again?" Fleiss asked.
Fleiss says the biggest hurdle is getting fashionistas over the idea of renting a dress to begin with, but after that most customers, like Rose, become frequent users.
Still, national services like this are few and far between, even on the heels of a recession that put a serious stranglehold on luxury indulgences.
Better-known Bag Borrow or Steal provides a similar service for the rental of designer handbags and accessories. Since launching in 2004, the site now has over 2 million members in the U.S. who sample luxury bags, jewelry, sunglasses and watches from high-end designers like Chanel, Louis Vuitton, Gucci and Prada.
Although the company has no immediate plans to include clothing in their offerings, Bag Borrow or Steal's President and CEO Russ Blain says it is not out of the question. "It is something that would be interesting to us," he said.
According to Blain, the rental market is poised for growth as the economy improves. "We're starting to see an uptick in the rental business now," he said. "Our future is pretty bright."