$305 on gas this month - Bah! Humbug!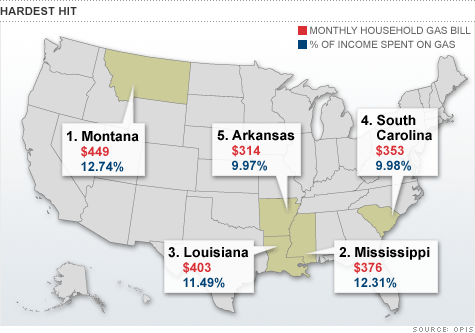 NEW YORK (CNNMoney.com) -- Holiday shoppers will need to bump up their budget for one purchase this year, and they can't even put it under the tree: gasoline.
The price of fuel is up 13.6% from last December and 76% higher from December 2008, according to a new study from the Oil Price Information Service.
Nationwide, drivers are estimated to spend $305 on gasoline in December.
Who's hardest hit? People in Montana.
Montana households are estimated to spend over $449 on gas in December, representing a 12.74% slice of their overall household budget.
Residents of New York are getting off relatively easy. Households there are estimated to spend around $214 on gas in December, just 4.71% of their household income. Other low-cost states include Maryland, Massachusetts, Nevada and Illinois.
It's common that people in rural states spend a higher percent of their salary on gas, as incomes tend to be lower. They also often have further to drive for work, and tend to buy larger vehicles.
The study's authors noted high fuel prices are likely to have a big effect on other things people purchase.
"Rising gas prices are more relevant to household budgets than a cursory glance at numbers might indicate," said the report, pointing to a forthcoming study. "Higher fuel prices motivate stunning behavioral changes in shopping patterns, and influence choices for premium versus discount merchandise."
And don't expect much relief going forward.
Based on the current high price of crude oil and historical trends, the authors say gasoline prices in the $3.75 range could be a reality by spring.