Oil settles above $90, copper rises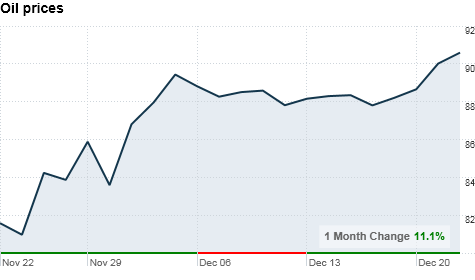 NEW YORK (CNNMoney.com) -- Oil prices passed the $90 a barrel mark on Wednesday after news that the nation's crude oil supply fell more than expected last week. They settled at about $90.48 a barrel.
Crude inventories fell by a higher-than-expected 5.3 million barrels from the week prior. Analysts surveyed by energy research firm Platts had expected the stockpile to fall by 2.4 million barrels.
Oil prices haven't settled above $90 a barrel since October of 2008.
Copper prices also hovered near record highs. The metal is up nearly 30% this year.
Copper prices, unlike prices of precious metals, usually move up and down in line with economic growth. Spikes in silver and gold often are more tied to inflation concerns than actual demand for those metals.
Wednesday's spike in copper was due to a disruption of shipping from the world's third largest copper mine, as well as expectations of rising investment demand, said Catherine Virga, director of research at CPM Group.
Copper is an important commodity for China. "It's a building block for the development we are seeing in China," Virga said. "It's used to build out their electrical grid."
Virga says copper plays a part in broader-based industrial expansion, rather than solely consumer goods. China's economy consumes around 35% to 40% of the world's annual copper output.
A report in the Wall Street Journal suggesting that a single trader owned 80%-90% of copper at the London Metal Exchange Warehouse also factored in to the rising prices.
"We're likely seeing that had some effect on the market because demand elsewhere is pretty soft," Virga said.