No American Airlines flights for sale on Orbitz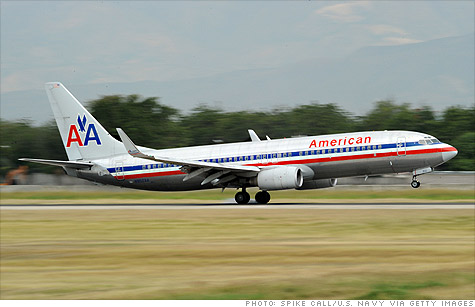 NEW YORK (CNNMoney.com) -- Looking for cheap flights on Orbitz? Don't expect to score one on American Airlines. The airline and the online travel company have severed their relationship.
The split happened on Tuesday after an Illinois court said the airline could cancel its contracts with the travel site, which sells flights and vacations packages and rents cars and hotel rooms.
"It is unfortunate that as of Dec. 21, American Airline flights will no longer be available on our Orbitz.com and Orbitz for Business sites," said Brian Hoyt, spokesman for Orbitz.
American Airlines accounted for about 5% of Orbitz Worldwide revenue for the first nine months of the year, according to Hoyt.
"In the near term, we believe that most of this ticket volume will be replaced by other airline suppliers," he said, noting that Chicago-based Orbitz "has access to more than 400 airlines globally and sells tens of millions of air tickets each year."
Hoyt said that his company will "continue to seek an arrangement" to sell America's tickets through Orbitz.com and Orbitz for Business.
American Airlines, through its holding company AMR Corp (AMR, Fortune 500)., was one of five original founders of Orbitz in late 1999. The airlines wanted to compete with existing computer-reservation systems such as Travelocity.
American Airlines was not immediately available for comment.
Anne Banas, executive editor at SmarterTravel.com, said she didn't think that American Airlines' flight from Orbitz would prompt other airlines to immediately follow suit. "Though if American's model proves to be successful, we might see other airlines using similar distribution systems and methods down the road," she added.
But Joe Brancatelli, editor of the business travel site Joesentme.com, said the separation won't last forever because "American cannot afford to not be on Orbitz and Orbtiz cannot afford to not have American."
"The goal of American was not to terminate Orbtiz; the goal was to get Orbitz to change the way it accessed its fares," said Brancatelli. "Both parties want to sleep together. The question is how much?"