Growth to improve. Housing? Jobs? Not so much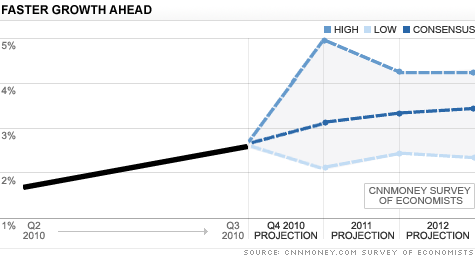 NEW YORK (CNNMoney.com) -- Economists are getting more bullish on U.S. economic growth. But the benefits of the stronger economy are going to take a while to reach job seekers and homeowners.
CNNMoney.com's survey of 23 leading economists forecasts a 3.1% annual growth rate for the final three months of the year.
That estimate is up from the 2.5% growth rate economists were predicting just three months ago. It's also an improvement over the third quarter, when the economy grew by 2.6%, according to the government's final reading released Wednesday.
And economists now expect 2011 growth to be stronger as well -- 3.3%, up from their earlier estimate of 2.8%. And they expect to continue that trajectory into 2012, predicting growth of 3.4%.
But the recovery will continue to be painful for job seekers and homeowners.
Economists are expecting the unemployment to be about 9.7% in December, little improved from the current unemployment rate of 9.8%. They expect it to improve to just below 9% by the end of next year, little changed from earlier forecasts, and they're looking for unemployment to drop to about 8.2% by the end of 2012.
Most economists expect unemployment won't get below 8% until 2013, a level it last reached in January 2009, the month that President Obama took office and the economy was losing more than 700,000 jobs a month.
"If you go back and look at forecasts a year ago, economists generally got growth right, but they got unemployment wrong," said John Ryding, chief economist of RDQ Economics, and one of two economists who think unemployment won't fall below 8% until 2014. "We probably need 5% growth to significantly lower unemployment, " It's just a question of how deep a hole we're digging out of."
Ryding points out that the working-age population grew by more than 4 million in the last three years, adding to the depth of the unemployment problem. And millions who lost their jobs aren't even being counted as unemployed, either because they're working part time or they've given up looking. Once the job market improves, they'll be looking for full-time work once again.
The battered housing market isn't forecast to show any significant improvement anytime soon either.
Economists expect home prices to be essentially flat in 2011, with an anticipated rise of just 0.4%, a bit lower than earlier forecasts. Five of the 21 economists who gave home price forecasts are projecting prices to fall in 2011. And prices are expected to rise only 2.2% in 2012.
Despite those continued areas of weakness, the U.S. economy is not their biggest area of concern. When asked which economy posed the greatest risk to the global economic recovery, 20 of 23 answered that Europe was the most troubling.
"Bailouts of the over-indebted countries cannot continue without impacting the less-indebted," said Bill Watkins, executive director of the Center for Economic Research and Forecasting. "We believe that the dissolution of the European Union is a very high probability event, with attendant risk of another financial crisis."
The remaining three cited China as the biggest risk to the global recovery, due to the Chinese government's efforts to slow growth in order to combat inflation.
Keith Hembre, chief economist of First American Funds, U.S. will become a larger threat in 2012, when some of the current efforts to spur the economy, like a payroll tax holiday, are due to end. But he still thought Europe is the bigger risk to global economic stability in 2011.