GDP report: Economic growth ticks up to 2.6%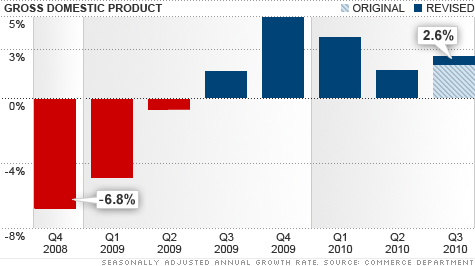 NEW YORK (CNNMoney.com) -- The U.S. economy grew at a slightly faster pace during the third quarter than previously estimated, driven by an increase in business investment, the government said Wednesday.
Gross domestic product, the broadest measure of the nation's economic activity, grew at an annual rate of 2.6% in the three months ended in September, according to the Commerce Department, up from the previous reading of a 2.5% rise.
Economists expected the third reading of third quarter GDP, which is a measure of goods and services produced in the United States, to tick up to 2.7%, according to a consensus of economist opinion from Briefing.com.
The government calculates GDP as a measure of goods and services produced in the United States. The number is often revised multiple times. This is the final reading for the quarter.
While the pace of economic growth is improving, the rate is still considered weak for a recovery.
"The economy is still only growing at a mediocre pace, especially if you consider the depth of the recession it's coming off of," said Mark Vitner, senior economist at Wells Fargo. "Growth really needs to be closer to 4% for a couple of years to bring down the unemployment rate."
The pace was somewhat tempered by a lower revision on consumer spending, which only rose 2.4% during the quarter, down from the 2.8% pace previously reported. Still, the increase in consumer spending, which accounts for two-thirds of the economy and is needed to drive the recovery forward, was the best since the first quarter of 2007.
The upward nudge in the GDP figure was largely fueled by a $121.4 billion increase in business investment in inventories, which added 1.61 percentage points to GDP growth, the government said.
"We're starting to see a build up in inventories, which could lead to cuts in production, and a slowdown in imports," Vitner said. "But exports have been strong so the trade deficit is narrowing."
While that's not a good sign for U.S. demand for goods, it does improve the prospects for U.S. economic growth.
And outlooks are improving. In an exclusive survey of economists by CNNMoney.com, the consensus forecast for economic growth during the fourth quarter rose to 3.1%. Just three months ago, economists were looking for a 2.5% for the last three months of the year.
Vitner is even more optimistic. As imports continue to ease and exports remain strong, he projects the economy could grow between 3.8% and 4% during the fourth quarter.
And growth during the first half of 2011 will likely remain strong as the $860 billion tax compromise, which President Obama signed into law last Friday, puts some money into consumers' pockets and gives businesses some certainty for at least two more years.