Copper prices up. China stocks down.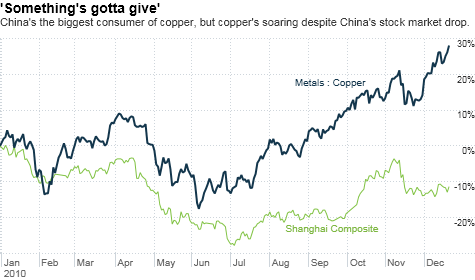 NEW YORK (CNNMoney.com) -- Everywhere you turn people are raving about the big price jumps in silver and gold this year. It makes you wonder if commodities traders have watched "Rudolph the Red-Nosed Reindeer" one too many times.
Silver and gold, silver and gold. Ev'ryone wishes for silver and gold. How do you measure its worth? Just by the pleasure it gives here on earth.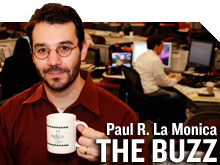 Sure, the spikes in precious metals are notable. But they don't say much about the global economy since gold (and to a lesser extent) silver are really more hedges against inflation and plays on the volatility in the currency markets.
If you want to find a metal that's actually rising on hopes of a healthy worldwide economic recovery, the decidedly less sexy copper is your bet.
"Copper prices are strongly correlated with global manufacturing activity," said Ben Ross, portfolio manager for GE Asset Management's Commodities strategy team in Stamford, Conn.
But here's the strange thing about copper. The metal is up nearly 30% this year even though there are growing fears about the economic health of the world's largest consumer of copper: China.
China's central bank is widely expected to raise interest rates in the not-so-distant future in order to rein in growth. Some worry China's real estate market is getting frothy and that spikes in agricultural commodity prices are creating a serious inflation risk.
As a result, China's Shanghai Composite is down more than 10% this year, a stark contrast to the double-digit percentage gains that the major stock indexes in the United States are enjoying.
But the disconnect between rising copper prices and sinking Chinese stock prices probably can't last much longer.
"Something's gotta give there," wrote Dan Wantrobski, director of technical research for Janney Montgomery Scott in Philadelphia, in a report Monday. "Either copper prices ... see [a] correction ahead, or the Chinese stock market rallies back."
Still, some experts think that the run in copper makes sense and that the pullback in China may be temporary.
Jason Schenker, president of Prestige Economics in Austin, Tx., said that a China rate hike would not be enough to kill its economy.
"Even if China's growth were to 'slow,' it's only going to slow so much," he said. "I'm not concerned about demand for copper collapsing. Growth will remain robust in China."
Schenker said he thinks growth in China will help boost the economic prospects of more sluggish developed markets, notably the United State, Europe and Japan.
And as long as China's economy keeps humming along, it's tough to imagine a scenario where China would significantly slow its purchases of copper.
GE's Ross said China does not have as big of a stockpile in copper as it does other metals and minerals. He noted that China consumes about 35% to 40% of the world's annual copper output but are only the fourth-largest global producer of the metal. All that adds up to higher prices for copper.
China also isn't the only game in town for copper so to speak.
Michael Hellenbrand, chief executive officer of Russian Anglo Mineral Resources Ltd , a London-based firm with iron mining rights in Russia, said he thinks copper should continue to head higher thanks to strong demand from the big four emerging markets, the so-called BRIC nations.
"China will need more raw material for infrastructure. Brazil, India and Russia are no different," he said. "The run in copper prices and other industrial metals is not likely to end next year."
Let's hope not. If copper prices retreat, that may be a sign that hopes for a significant global economic rebound in 2011 may be fading
Janney Montgomery Scott's Wantrobski wrote that if copper prices pull back, "they will most likely take U.S. stocks lower as well."
-- The opinions expressed in this commentary are solely those of Paul R. La Monica. Other than Time Warner, the parent of CNNMoney.com, and Abbott Laboratories, La Monica does not own positions in any individual stocks.