Ex-Shell president sees $5 gas in 2012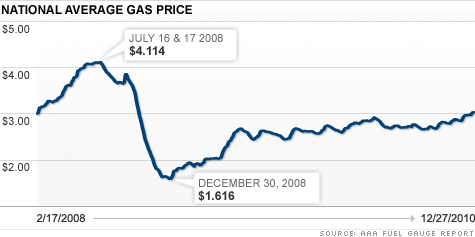 NEW YORK (CNNMoney.com) -- The former president of Shell Oil, John Hofmeister, says Americans could be paying $5 for a gallon of gasoline by 2012.
In an interview with Platt's Energy Week television, Hofmeister predicted gasoline prices will spike as the global demand for oil increases.
"I'm predicting actually the worst outcome over the next two years which takes us to 2012 with higher gasoline prices," he said.
Tom Kloza, chief oil analyst with Oil Price Information Service says Americans will see gasoline prices hit the $5 a gallon mark in the next decade, but not by 2012.
"That wolf is out there and it's going to be at the door...I agree with him that we'll see those numbers at some point this decade but not yet." Kloza said.
"The demand is still sluggish enough in some of the mature economies."
Gasoline prices have been steadily rising. Last week, gas prices crossed the $3 mark for the first time since October 2008. According to AAA figures, prices are up 4% from a month ago and 16% from the $2.585 average a year ago.
A study from the Oil Price Information Service estimates drivers will spend $305 on gasoline in December. According to the study, fuel prices are up 13.6% from last December and 76% higher from December 2008.
Gas prices eased off last week's gains but still remained around the $90-a-barrel mark, settling at $91-a-barrel. Prices were down 51 cents from Thursday's close after China unexpectedly raised interest rates over the holiday weekend for the second time in two months.
Oil prices settled above $90 a barrel for the first time since October of 2008.