Blizzard freezes crucial post-Christmas sales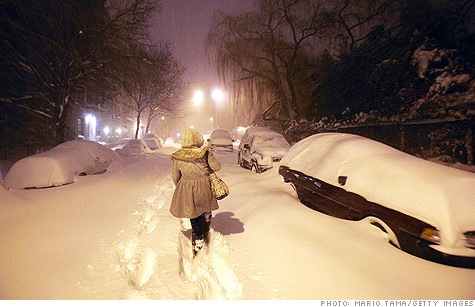 NEW YORK (CNNMoney.com) -- The blizzard that walloped the U.S. East Coast over the holiday weekend struck retailers at a pivotal time, burying their crucial post-Christmas sales under a heavy blanket of snow.
"Holiday 2010 just went from a truly Merry Christmas for retailers to a lost weekend with retailers scrambling to recover lost sales," Marshal Cohen, chief retail analyst with NPD Group, said in a note Monday.
Cohen estimates that retailers will lose about 0.5% of total holiday sales from the loss of the post-Christmas shopping day.
"The loss of post-Christmas weekend is brutal. This weekend was shortened already. Saturday was Christmas and then Sunday was lost in the East and much of the Midwest to a snowstorm," he said, adding that the day after Christmas is generally one of the top six sales days of the year for merchants.
Snow began falling in parts of the South on Christmas, where winter weather advisories expired Sunday evening in parts of Alabama, Tennessee and the Carolinas. But the storm system had a more substantial impact up the East Coast into Monday.
Parts of the East Coast, including the New York City metropolitan area, were hit with as much as 31 inches of snow.
"The weather has interfered with business and traffic at some of our shopping centers on the East Coast," Karen MacDonald, spokeswoman for Taubman Centers, said late Sunday.
Taubman (TCO) owns 26 shopping centers across the United States, including the Stamford Town Center in Stamford, Conn., and the Woodfield Mall in Schaumburg, Ill.
MacDonald said shopping traffic at the Stamford Town Center on Sunday was lighter than the same time last year, largely due to the snowstorm. She said those who braved the storm picked up clothing and deeply-discounted holiday merchandise, with about 5% to 10% of purchases made with gift cards.
Customer traffic was also sparse at the Woodfield Mall on Sunday because of snow. "It picked up in the afternoon but not to last year's levels," said MacDonald.
Staying optimistic: MacDonald said merchants are staying optimistic and counting on a good week, despite the weather, because of the number of people that are off from work and school this week.
"Those shopping centers not experiencing weather problems are having a good day," she said.
Still, Cohen isn't sure that retailers will be able to regain all of the sales momentum that they've enjoyed during this year's holiday shopping season.
The gift-buying months of November and December together are critical to merchants because combined sales during the two months can account for as much as 50% of their revenue and profit for the entire year.
After a two-year slump, holiday sales revved up this year, marked by robust sales on Black Friday.
Consequently, the National Retail Federation (NRF), which initially had forecast a 2.3% gain in 2010 holiday sales, bumped up its holiday sales forecast to a 3.3% increase earlier this month after retailers reported much stronger store sales for November.
So can retailers recover from this one setback this season?
"Sure," said Cohen, "But it will take two to three weeks longer because retailers have lost the momentum they gained."
"We have to keep in mind that next weekend is New Year's and that will also distract consumers from shopping," he added.
"The snowstorm impacted retailers regionally where stores did not see people coming in the day after Christmas for exchanges, or buying items on clearance," said Kathy Grannis, spokeswoman for the NRF. "But it could have been a lot worse [for retailers] if this storm hit the week before Christmas."
For now, Grannis said the NRF is sticking with its holiday sales forecast.