5 stocks on Santa's naughty list
NEW YORK (CNNMoney.com) -- This was not a banner year for Corporate America. Or Corporate Japan. Or Corporate England.
Look back at some of the biggest financial stories of 2010 and many of the headlines center on big companies around the world doing something horribly wrong.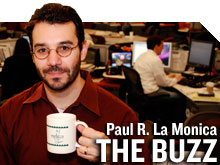 Toyota's unintended acceleration problems. The tragic explosions of a Massey Energy coal mine and BP oil rig in the Gulf of Mexico in April. Accusations of fraud at Goldman Sachs. Johnson & Johnson's numerous recalls of well-known consumer products.
It should come as no surprise that most of these stocks have lagged the broader market this year. The only one doing well is Massey, which is up 25% this year, mainly on takeover speculation. So how will these 5 companies on Santa's naughty list do in 2011? Here's a rundown.
Toyota: The Japanese auto giant's stock has recovered from its low point of the year. But shares are still down 7%.
The good news for the company is that auto sales in the United States are starting to pick up. The bad news is that Toyota's once pristine reputation with customers may now be tarnished for some time after problems with sticky gas pedals and faulty engines.
It doesn't help that two of Detroit's Big Three -- Ford (F, Fortune 500) and General Motors (GM), which enjoyed a triumphant return to the public markets last month -- appear to be revitalized. And shares of Toyota (TM), despite their fall this year, still are pricey.
Shares trade at 15 times fiscal 2012 earnings estimates while Japanese rival Honda Motor (HMC) trades for just 11 times 2012 profit forecasts. I wrote in September that it's hard to "justify why investors should pay a luxury price for a stock that more resembles a beat-up lemon." That still is the case.
Massey Energy: The explosion at Massey's Upper Big Branch mine on April 5 caused the deaths of 29 miners and raised more questions about mine safety issues for the company. Massey's stock was more than cut in half from early April through early July.
Shares are now only slightly below where they were the day of the accident though. Takeover speculation has intensified since CEO Don Blankenship announced earlier this month that he was retiring.
But Massey (MEE) now looks way too expensive. Shares trade at a premium to rivals like Peabody Energy (BTU, Fortune 500) and Arch Coal (ACI). It's also not clear if Massey wants to sell out or actually buy a smaller competitor. There has been chatter that Massey is interested in bidding for International Coal Group (ICO).
BP: The company is the poster child for crisis management gone wrong. As if the death of 11 workers and massive environmental damage to the Gulf Coast weren't enough, BP CEO Tony Hayward made matters worse by famously declaring in an interview that he'd "like his life back."
Hayward is no longer CEO. And shares of BP (BP) have gained about 12% since the company announced in late July that veteran executive Bob Dudley was replacing Hayward. Fears of a BP bankruptcy have also waned.
But BP's stock is still down 25% this year. There's a reason for that. Although BP is busy selling assets to prove to investors it can handle the legal costs tied to the Deepwater Horizon disaster, there are still major concerns.
The U.S. Justice Department announced last week it was suing BP and eight other companies involved in the April 20 spill. If the government wins the case, BP could be on the hook for major penalties. It seems safe to say that this uncertainty should continue to weigh on BP for months, if not years.
Goldman Sachs. The month of April was certainly a jarring one for the markets. On April 16, the SEC sued Goldman (GS, Fortune 500), alleging that the investment bank's marketing of a complex mortgage security was fraudulent.
Goldman's stock plunged on the news and at one point this year was down more than 30% from its 52-week high. Goldman executives were dragged in front of Congress for a surreal hearing in which Carl Levin, a Democratic senator from Michigan, did his best to get bleeped on TV by uttering the phrase "shitty deal" from a Goldman e-mail eleven times.
Goldman wound up settling with the SEC and agreed to pay $550 million. It admitted no wrongdoing however. And the much feared financial reform bill that passed this year was watered down so much that few financial analysts believe it will have a significant negative impact on Goldman's business.
Investors seem to have largely forgotten about Abacus, trader "Fabulous" Fabrice Toure and the whole sordid saga as well. Shares are now flat this year. And with merger mania helping to heat up the stock market, it seems likely that Goldman will continue to mint huge profits in 2011.
As I wrote last month, "if you're interested in investing in a company that might actually earn you some money over the next few years, you could do a lot worse than Goldman. Just hold your nose if you're going to buy."
Johnson & Johnson. J&J does not make Teflon. That honor goes to fellow Dow component DuPont (DD, Fortune 500). But J&J is definitely a Teflon stock. Despite numerous recalls of products ranging from children's Tylenol and Motrin to Benadryl and Rolaids, shares of J&J (JNJ, Fortune 500) are only down 3% this year.
My colleague Parija Kavilanz has reported extensively on the suspect practices of J&J's McNeil Consumer Healthcare unit and the FDA's continued investigations. But investors seem to be brushing off the problems for two reasons.
There have been few reports of major health problems tied to the recalls. Many of the recalls have been due to "musty odors" as opposed to something that could make people seriously sick. In addition, many investors still seem to hold J&J regard for how it handled the Tylenol cyanide scare -- even though that was back in 1982.
Simply put, the financial impact of the recalls remain minimal. If the company only made consumer products, it would be a different story. But J&J has its tentacles in the pharmaceutical, medical equipment and biotech businesses as well.
Analysts still expect J&J sales and profits to increase this year and next, albeit at a sluggish pace. I pointed out in a column in September that "as long as the company's overall sales and profits aren't at risk, J&J stock is likely to remain a Wall Street favorite." So things will have to get significantly worse before investors bail on J&J.
-- The opinions expressed in this commentary are solely those of Paul R. La Monica. Other than Time Warner, the parent of CNNMoney.com, and Abbott Laboratories, La Monica does not own positions in any individual stocks.