Tech startups duke it out in snowball fight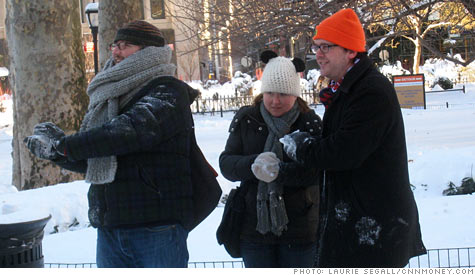 NEW YORK (CNNMoney.com) -- A few brave souls from New York City's tech crowd ventured into blizzard-covered streets Monday for venture capitalist Charlie O'Donnell's second annual tech snowball fight.
O'Donnell, a principal with First Round Capital, organized the fight on Twitter, recruiting participants with the hash tag #techsnowball. He also advertised the battle through his weekly tech newsletter. Typically jam-packed with events, this week the newsletter featured just one: "INNOVATION COMMUNITY SNOWBALL FIGHT!"
As shop owners salted their sidewalks and residents tried to free their cars from beneath mountains of snow, techies gathered at Madison Square Park to network in freezing temperatures.
Although the extreme weather conditions -- and city-wide subway shutdowns --kept turnout down, fears of frostbite didn't deter a few dozen revelers from showing up for snowball-assisted networking.
Nick Ganju, CTO and founder of ZocDoc, a three-year-old startup that helps patients book doctor appointments online, came with a business agenda.
"I came here specifically to hire people," Ganju said in between snowball tosses.
Ganju's startup, which recently closed a $15 million funding round led by Founders Fund, handed out cards reading "ZocDoc is hiring Rockstar devs!"
"You got to hustle," said Alex Taub, a business developer at Aviary, which offers free photo-editing and other Web creations tools.
Other attendees included a team from startup Hashable, an online tool that helps users track their relationships; and Gregory Galant, founder of Muckrack, a startup that collects tweets from journalists.
Most snowball fighters who attended didn't travel far -- a good thing, given the chilly weather and tough travel conditions.
The downtown Manhattan area is jam-packed with startups and investors.
"I would say half the startups in New York are in a six-block radius of this park," said organizer O'Donnell, who picked the spot for its tech proximity. "I like feeling attached to the neighborhood."
And for startups trying to make a name for themselves in an increasingly crowded space, any visibility helps. Paramendra Bhagat, CEO of a fledgling venture called Koya, said that any chance to schmooze is worth grabbing.
"When you're part of a small startup, it's important to feel something big," he said. "This is where a lot of bonding happens."
And as is often the case in the tech world -- where work and play constantly overlap -- a social outing could lead to a new job.
"I found a couple people here that seem like solid candidates," ZocDoc's Ganju said of his hunt for software engineers among the snowball fighters.