$1 billion: Blizzard's cost to retailers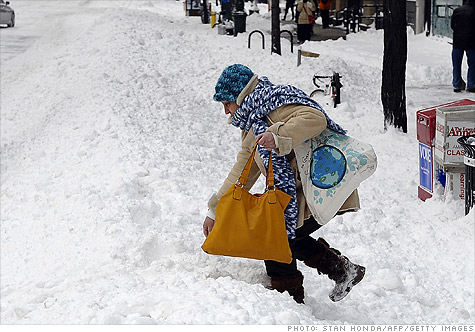 NEW YORK (CNNMoney.com) -- Retailers may have lost $1 billion of crucial post-Christmas sales because of the blizzard that struck over the holiday weekend, according to a report Wednesday.
ShopperTrak, which records sales and customer traffic at more than 70,000 stores and malls, estimates that shopper traffic on Dec. 26 was 11.2% below what it would have been if the blizzard hadn't hit.
"The 2010 blizzard throughout the Northeast halted nearly all retail visits and spending during a period that is fairly crucial for retailers," ShopperTrak founder Bill Martin, said in the report.
Specifically, shopping traffic in the Northeast fell 6.1% on Sunday.
Monday was particularly brutal. Many potential shoppers were snowbound or digging out from the storm.
ShopperTrak estimates that stores nationwide saw 13.9% lower traffic than the average level expected had the blizzard not hit.
In the Northeast, which was crushed by 20-plus inches of snow, traffic fell 42.9% on Dec. 27 compared to a year ago.
Given that retail sales estimates for Dec. 26 and 27 combined are about $10 billion, the firm assumed a 10% sales impact nationally from the blizzard.
That means about $1 billion of retail spending was postponed during that two-day period.
"And at this point the prospect of momentarily pausing a potential $1 billion in sales has the collective industry holding its breath," Martin said.
"While we do think there will be some retail strength later this week as folks begin to dig out, it will be interesting to see if levels recover in time to boost December sales and the overall holiday shopping season," Martin said.
Christmas week sales drop: Although the Nov. - Dec. season was surprisingly strong, the firm said the blizzard capped off what was already looking like a somewhat disappointing week-before-Christmas for sellers.
ShopperTrak's National Retail Sales Estimate for Christmas week sales at general merchandise, apparel, furniture and other stores showed a 4.1% drop versus the same period last year.
Martin attributed the dip to a "calendar shift" which placed Dec. 26 on a Sunday this year as opposed to a Saturday last year. As a result, sales on Dec. 26 could not be counted in the Christmas week tally, Martin said.
The day after Christmas typically counts among the top six busiest sales days of the year for merchants, said Marshal Cohen, chief retail analyst with NPD Group.
Cohen estimates that retailers will lose about 0.5% of total holiday sales from the loss of the post-Christmas shopping day.
"The loss of post-Christmas weekend is brutal. This weekend was shortened already. Saturday was Christmas and then Sunday was lost in the East and much of the Midwest to a snowstorm," he said.
"The weather has interfered with business and traffic at some of our shopping centers on the East Coast," Karen MacDonald, spokeswoman for Taubman Centers, said late Sunday.
Taubman (TCO) owns 26 shopping centers across the United States, including the Stamford Town Center in Stamford, Conn., and the Woodfield Mall in Schaumburg, Ill.
MacDonald said shopping traffic at the Stamford Town Center on Sunday was lighter than the same time last year, largely due to the snowstorm. She said those who braved the storm picked up clothing and deeply-discounted holiday merchandise, with about 5% to 10% of purchases made with gift cards.
Cohen isn't sure that retailers will be able to regain all of the sales momentum that they've enjoyed during this year's holiday shopping season.
The gift-buying months of November and December together are critical to merchants because combined sales during the two months can account for as much as 50% of their revenue and profit for the entire year.
After a two-year slump, holiday sales revved up this year, marked by robust sales on Black Friday. Consequently, the National Retail Federation (NRF), which initially had forecast a 2.3% gain in 2010 holiday sales, bumped up its holiday sales forecast to a 3.3% increase earlier this month after retailers reported much stronger store sales for November.
So can retailers recover from this one setback this season? "Sure," said Cohen, "But it will take two to three weeks longer because retailers have lost the momentum they gained."
And while the storm froze traffic at stores, e-tailers may have seen a boost even beyond the record-setting days seen earlier in the season. Online sales numbers for the Christmas week through Sunday are expected later on Wednesday.