Gas prices: Bracing for more pain at the pump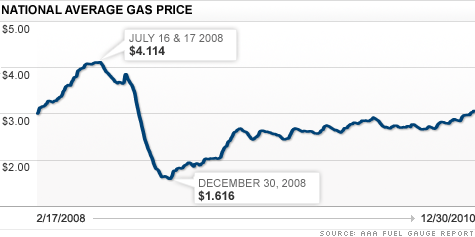 NEW YORK (CNNMoney.com) -- Drivers may be bracing for more pain at the pump in 2011 as gas prices continue to head higher.
The price for a gallon of gas has risen 3% over the past 12 days and last week, prices crossed the $3 mark for the first time since October 2008. At $3.073 a gallon, gas prices are still 25% below their peak of $4.114 set in July 2008.
Still, former Shell Oil president John Hofmeister recently said drivers could be paying $5 for a gallon of gas by 2012 as the global demand for oil increases. And that's no joke.
Fred Rozell, director of business development and retail pricing at Oil Price Information Service says it's tough to project whether gas prices will go up over the next couple years, but consumers should count on gas prices rising into the spring.
"Generally the trend is up, and we'll continue to see prices go up assuming the economy remains on track," he said. "Based on historical trends we generally see increases throughout the year and into the spring."
As for $5 gas in 2012?
"That would be a gigantic increase that I don't think will happen," said Rozell, adding, "any forecast beyond 6 months is really witchcraft."
Overall, Americans are expected to wind up spending a total of $35.8 billion on gas this December, according to the Oil Price Information Service. That's up 17% from last year.
Oil surge: Oil, the main ingredient in gasoline, has also been on a tear, with crude prices topping $90-a-barrel for the first time in more than two years.
Platts senior oil analyst Linda Rafield attributes some of the spike in oil prices to speculation.
"That can push prices to a level that doesn't reflect supply and demand," Rafield said.
But higher oil prices could still translate to higher gas and home heating bills for consumers.
"The price of the barrel of crude oil translates somewhat into gasoline and higher home heating prices... since the price of the barrel of crude affects making the product," Rafield said.
"If oil prices sustain themselves at the $90-a-barrel level... it will translate to higher prices if demand stays at the level we're currently seeing."
Air fares on the rise: Consumers may also feel the squeeze when it comes to booking a flight.
Airlines are beginning to raise ticket prices, citing higher fuel costs among other factors. Several airlines have already increased one-way ticket prices by $10 in the last week.
"If you think about the hundreds of thousands of gallons that we run through every single day, a penny here and there adds up very quickly," said American Airlines spokesperson Ed Martelle.
JetBlue has also hiked fares but says it's not just fuel driven.
"In select markets we've matched the $10 one-way fare increase filed by other airlines. This is not a fuel surcharge but rather an increase in fares," said JetBlue spokesperson Bryan Baldwin. "We generally consider a number of factors when making pricing decisions, including the competitive landscape, underlying demand as well as fuel costs."
Delta, United, Continental, and U.S. Airways have also increased their fares to match rising costs.
"In general, airlines want to have a fare structure in a market that is similar to and competitive with other airlines that fly in the same market. So if one or more airlines don't match a fare increase, often times the airline(s) that initiated the increase will rescind it," Baldwin said.
Southwest Airlines has no current plans to raise fares but is keeping a close watch on oil prices, said Southwest spokesperson Marilee McInnis.
"Our goal is to have low fares and give our customers the freedom to fly. We are watching the price of oil very closely but don't plan to match the fare hikes," she said.