Microsoft CEO Ballmer wants to talk Kinect, not tablets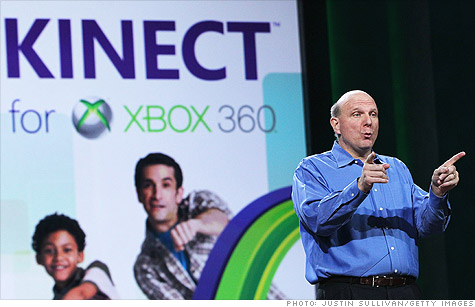 LAS VEGAS (CNNMoney) -- Microsoft CEO Steve Ballmer's CES kick-off speech unveiled new sales stats on the company's big holiday hit: its Kinect motion-sensor gaming platform, which sold 8 million units in its first 60 days.
He repeated a presentation from earlier in the day that previewed a new, tablet-optimized version of Windows under development -- though the word "tablet" was never spoken.
Ballmer's speech Wednesday evening was the official opening event of the Consumer Electronics Show in Las Vegas. He also gave the keynote speech last year, during which he waved around a tablet prototype that never made it to market in 2010.
Trying to avoid a repeat of that debacle, Ballmer focused his remarks on Microsoft's strongest weapon in the gadget market -- its gaming platform.
Ballmer started his presentation with a history of the Xbox, Microsoft's (MSFT, Fortune 500) gaming console that launched at CES in 2001, calling it "a bold step forward toward transforming entertainment. "The company launched Xbox Live the following year, and has since added movies and music to the platform," he said.
Kinect: "Xbox 360, Xbox Live and Kinect have made 2010 the best in our history," Ballmer said, adding that Microsoft had expected to sell 5 million Kinects in its first two months -- a number it blew past.
Next to the stage was Ron Forbes, from Microsoft's interactive entertainment business. He went over using Xbox Live and Kinect to stream movies and music from Microsoft's Zune platform -- controlled, through the Kinect, by voice and gestures.
"People have been asking about when they'll be able to use Netflix," Forbes said. "This spring we are bringing Netflix and Hulu Plus to Xbox Live and Kinect." The audience cheered that announcement.
Forbes also showed off ESPN on Xbox Live, where users can make predictions about upcoming games and share them with friends.
Avatar Kinect: Following Forbes, a Steve Ballmer avatar appeared on the screen and gave a short speech. In the upcoming Avatar Kinect chat service, the platform will now track facial expressions like talking and raising an eyebrow.
Avatar Kinect lets Xbox Live users have their avatars meet up and chat in one of 15 virtual settings. It will launch this spring and be free for paid Xbox Live members, Ballmer said.
"Xbox is becoming the hub of your living room," he added. "It's your games -- but it's also your TV, your movies, your sporting events. "
Windows Phone 7: Microsoft's Android/iPhone rival launched in November, though no sales figures have been revealed since a recent press release that said 1.5 million units had shipped in six weeks. Notably, Microsoft didn't comment on how many of those units had sold.
That number wasn't updated Wednesday, although Ballmer said 5,500 apps are now available and more than 100 are added each day.
Other than a few upcoming games, Microsoft executives had no new phone information to announce.
A tablet-optimized Windows: To close the presentation, Windows executive Mike Angiulo demoed a new version of Windows that will be optimized for tablets. His talk was nearly identical to a pre-keynote presentation from Microsoft earlier in the day.
The unnamed new version of Windows will support system-on-a-chip architecture. "SoC" takes the major components of a computer and puts them in a thin silicon chip that can fit into small devices like tablets. Like the earlier Microsoft event, Wednesday night's presentation stopped short of actually referring to tablets.
Angiulo demoed the upcoming Windows system running on new SoC platforms from several partners: AMD, Intel, Nvidia, Qualcomm, ARM and Texas Instruments. But the presentation didn't show a new user interface.
Angiulo also touted a few upcoming devices that will use the new Windows system. The audience oohed at an Acer dual screen PC featuring two touchscreens, as well as a Samsung PC whose screen slides over the keyboard to look like a tablet.
Ballmer closed the presentation with a look toward the future: "We want to bring Windows forward to redefine what's really possible. Xbox has become the place for your favorite TV shows, and the Windows Phone 7 is the best new phone out there. We're entering a new era of technology for consumers."